Choosing the Perfect Kitchen Splashback: A Complete Guide
Selecting the ideal kitchen splashback is crucial for both style and functionality.
Learn about various splashback options, from easy-to-clean laminates to stunning glass designs, and discover tips for transforming your kitchen space.
Elevate your kitchen's appearance and functionality by choosing the right splashback
This guide walks you through an array of splashback choices that not only protect your kitchen surfaces but also add character and style to your space. Dive into various materials, designs, and installation ideas to find the perfect splashback that suits your needs and enhances your kitchen's aesthetics.
Functional and Stylish: Finding the Right Kitchen Splashback
A kitchen splashback is more than just a protective measure—it's a design element that completes your kitchen's look.
Functionality First: Prioritize the practical benefits of a splashback. Opt for easy-to-clean materials like laminate and glass, which require only a simple wipe to keep splashes at bay. Consider placing splashbacks near the hob and appliances for maximum convenience.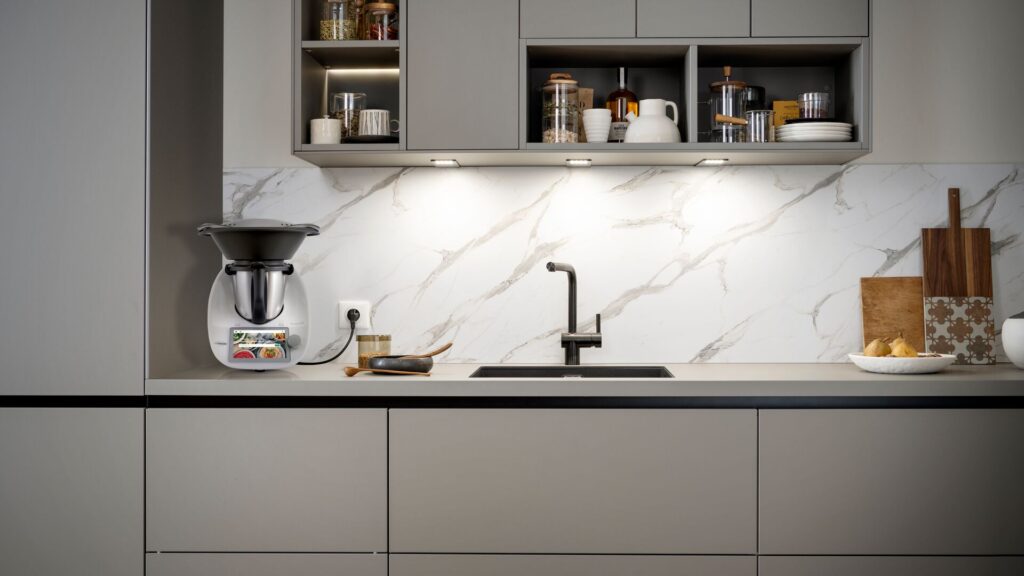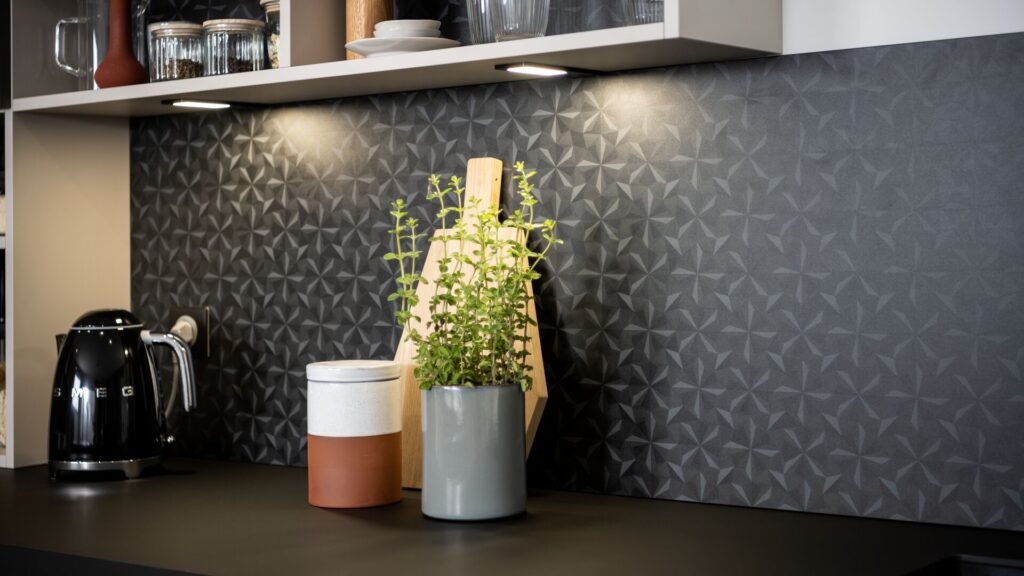 Stylish Options
"Upstands" for a Seamless Look: Choose a continuous surface with upstand splashbacks that run along the worktop's length. Available in materials like laminate, ceramic, granite, wood, and concrete, upstands enhance your kitchen's elegance. Note that they provide slightly less protection against wall splashes due to their height.
Additional Protective Measures: If using upstands, consider adding a stainless steel or tempered glass splashback behind the hob to safeguard the paintwork. These materials also handle temperature variations well, making them suitable for areas near hobs.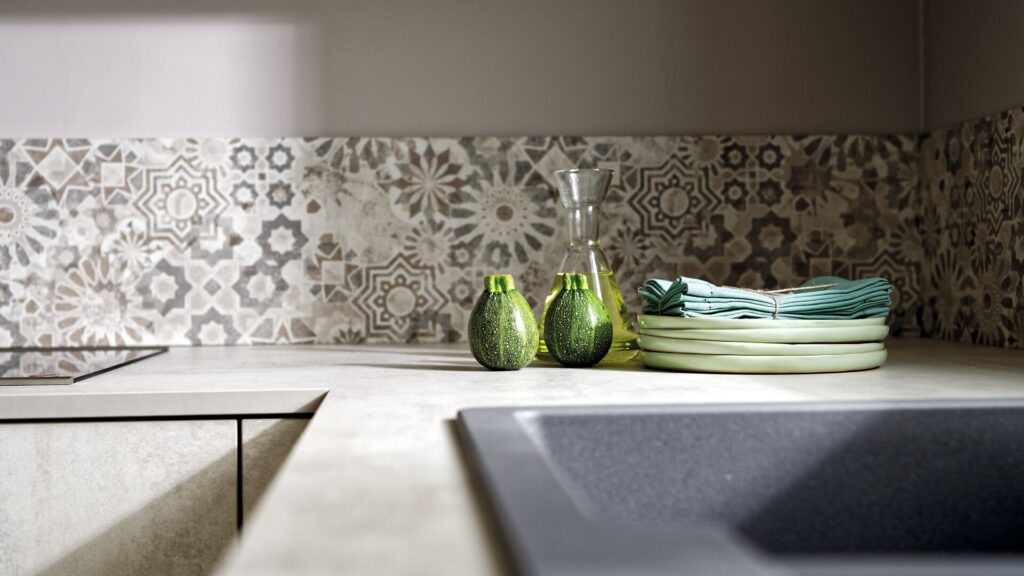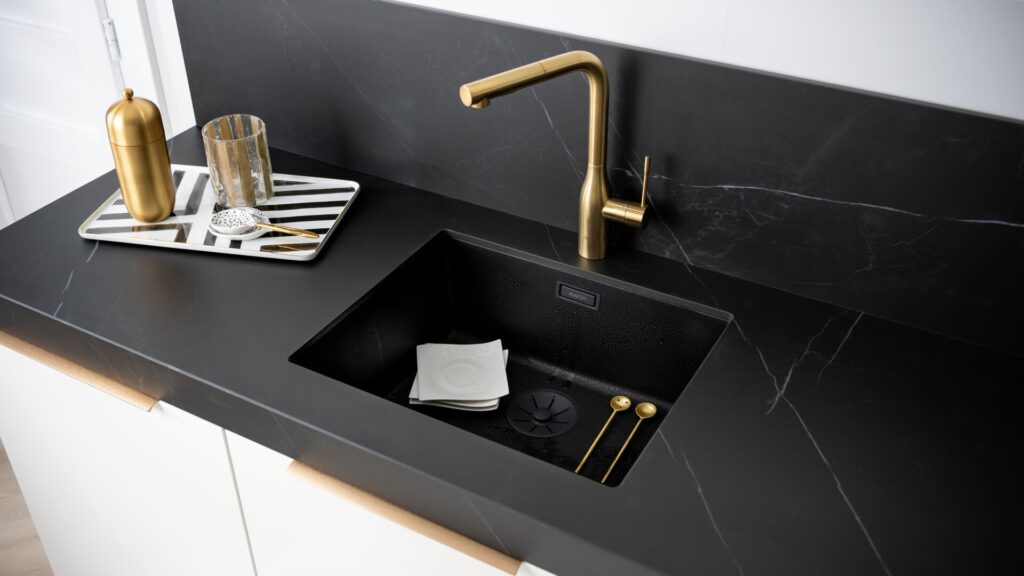 Selecting the Ideal Splashback
Laminate: A Versatile Choice: Laminate splashbacks offer a range of advantages, including easy installation, a variety of colors and effects (wood, concrete, stone, metal), and a favorable price-to-quality ratio. They're resilient, easy to clean, and offer years of service with minimal maintenance.
Quartz: For Sophistication: Quartz splashbacks mimic stone finishes, creating a sophisticated ambiance when matched with a similar worktop.
Ceramic: Low-Maintenance Elegance: Ceramic splashbacks with stone-like finishes require minimal maintenance and are highly heat resistant, making them perfect for areas near gas hobs.
Stainless Steel: Professional Appeal: Stainless steel splashbacks evoke a professional kitchen vibe. Their heat resistance and easy-to-clean properties make them ideal for gas hob areas.
Lacquered Glass: Chic Simplicity: These neutral-colored glass splashbacks exude sophistication and are incredibly easy to clean.
Printed Glass: Expressive Designs: For a bold look, explore printed glass splashbacks with trendy patterns, from metro designs to geometric patterns.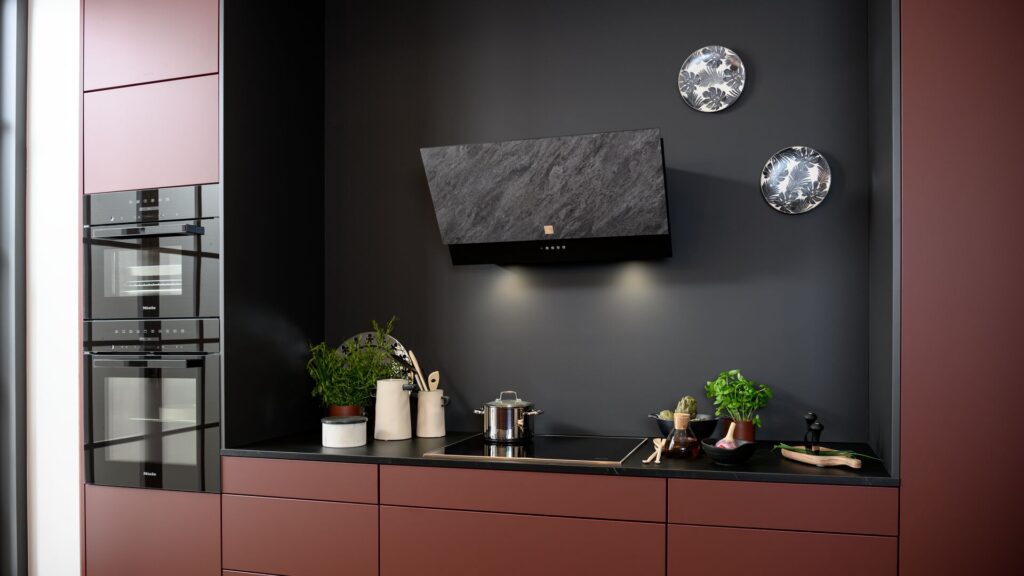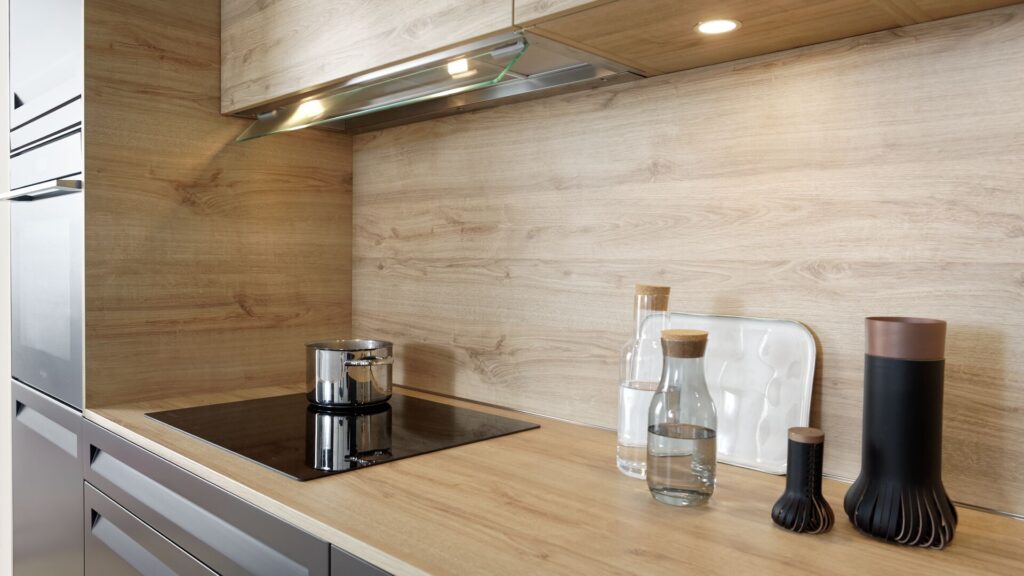 Exploring More Options
Wall Tiles: Classic and Stylish: Wall tiles offer elegance and countless design possibilities. Go for classic colors or more contemporary designs, like Paris metro-style tiles, to elevate your kitchen's appearance.
Wall Panels: Budget-Friendly Style: Wall panels offer a stylish and cost-effective alternative. They come in various shapes and styles, often with adhesive backing for easy installation and removal.
Concrete Coatings and Renders: DIY Chic: For DIY enthusiasts, concrete coatings and renders create an industrial or modern look. However, proper application is key.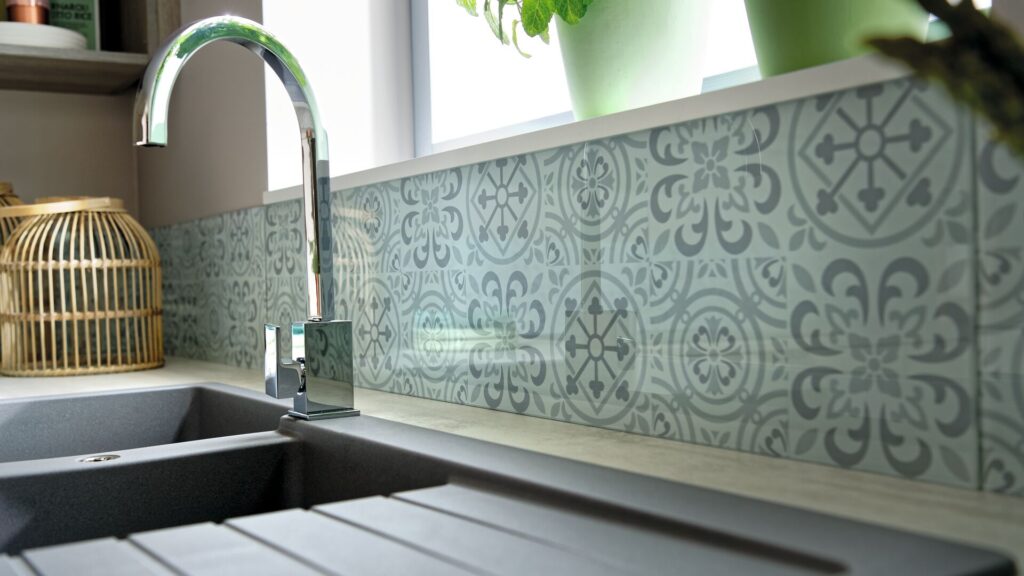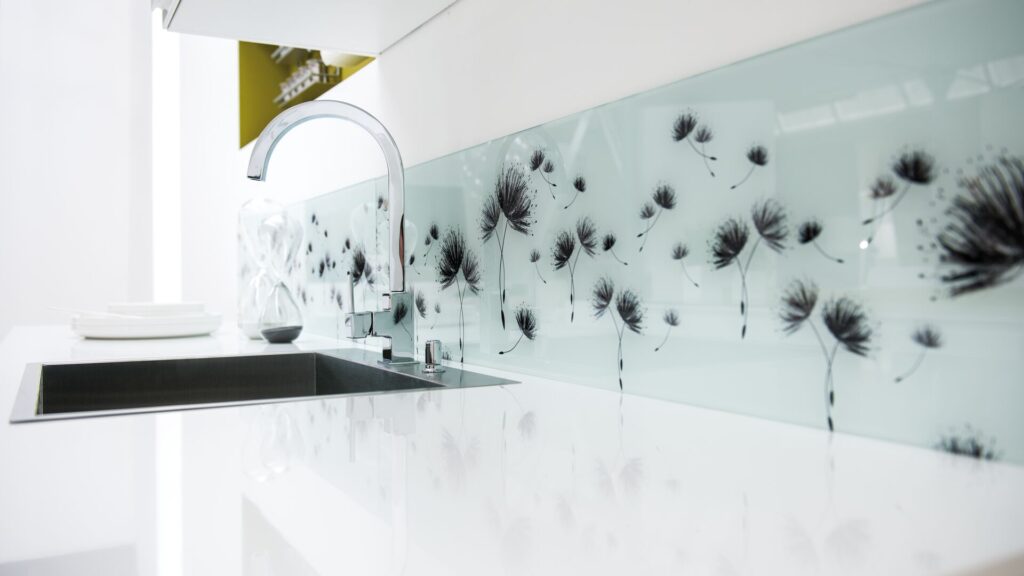 Personalizing Your Space
Splashback Colors: Infuse originality with splashback colors that contrast or complement your kitchen's hue. Create a vibrant atmosphere with warm colors against white units.
Changeability: Remember that splashbacks are easily changeable. While kitchens endure over time, splashbacks can be updated whenever you desire a fresh look.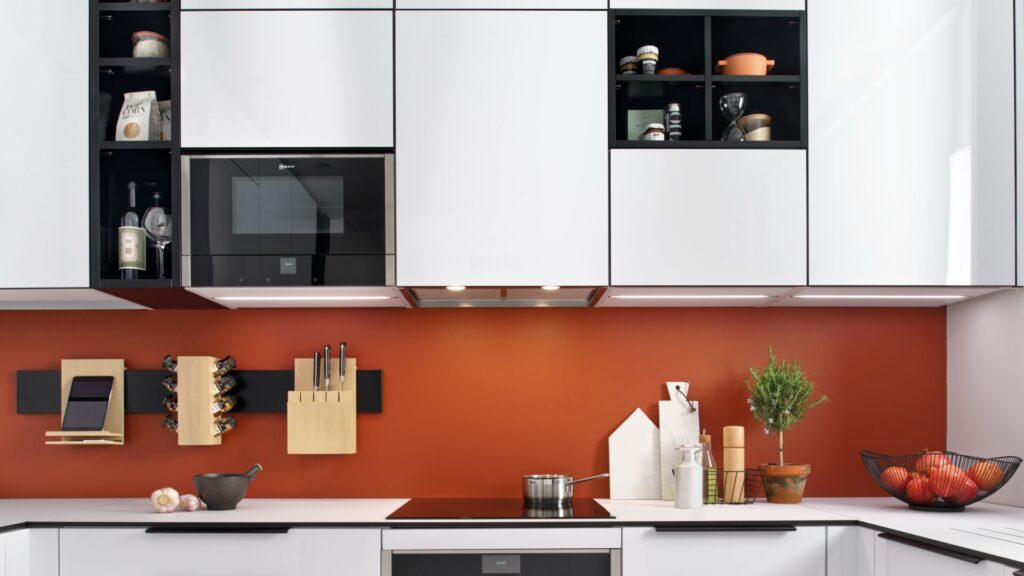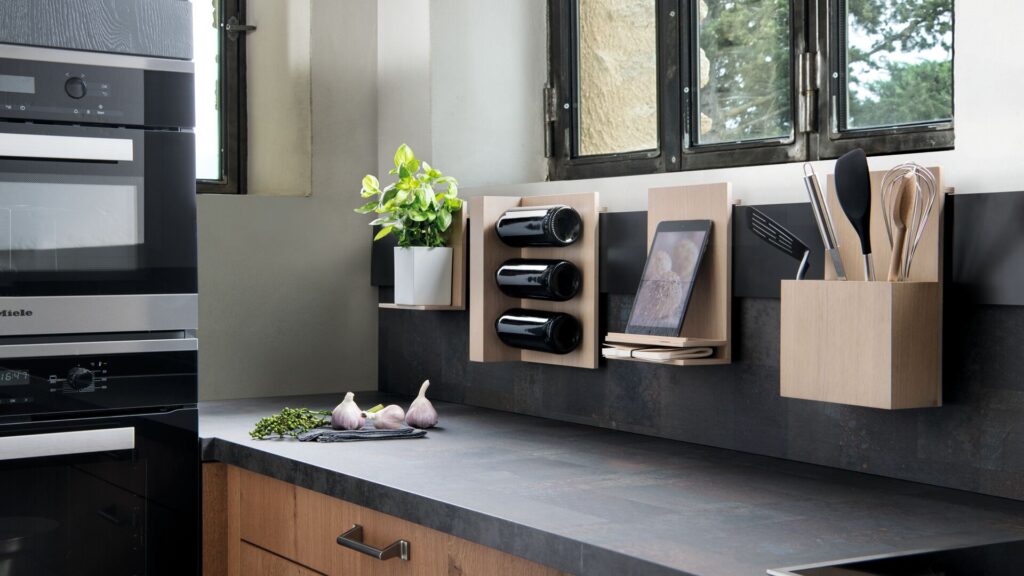 With a plethora of splashback options available, your kitchen's aesthetic and functionality can be enhanced effortlessly. From low-maintenance laminates to stylish glass designs and beyond, your choice of splashback is pivotal in shaping your kitchen's personality. Embrace the creative freedom, prioritize practicality, and enjoy the transformative power of the perfect kitchen splashback.

Do you need advice on choosing your equipment?
Take advantage of the expertise of our designers-sellers

The Schmidt experience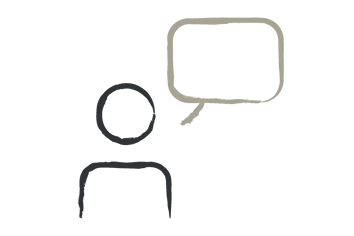 Single point of contact
A dedicated designer that knows your project inside out, will manage everything.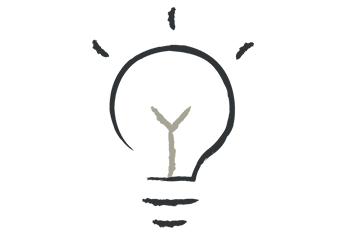 Personalised advice
We'll work closely with you to unlock the hidden potential in your home. Free quotation & VR
Your project will come to life with a free detailed quote, 3D renders and VR experience.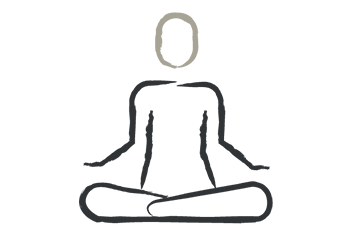 Peace of mind
We'll be with you from the initial planning to installation, and beyond.