Dressing rooms and interior solutions
To put a different spin on a famous saying, "Tell me what your dressing room's like, and I'll tell you who you are!"
Here at Schmidt, we have taken this saying to heart. We will not ask you to choose from a collection of units, but instead, we will design a dressing room to suit your very own lifestyle needs.
Made-to-measure. Personalised. Ideal.
For a perfect dressing room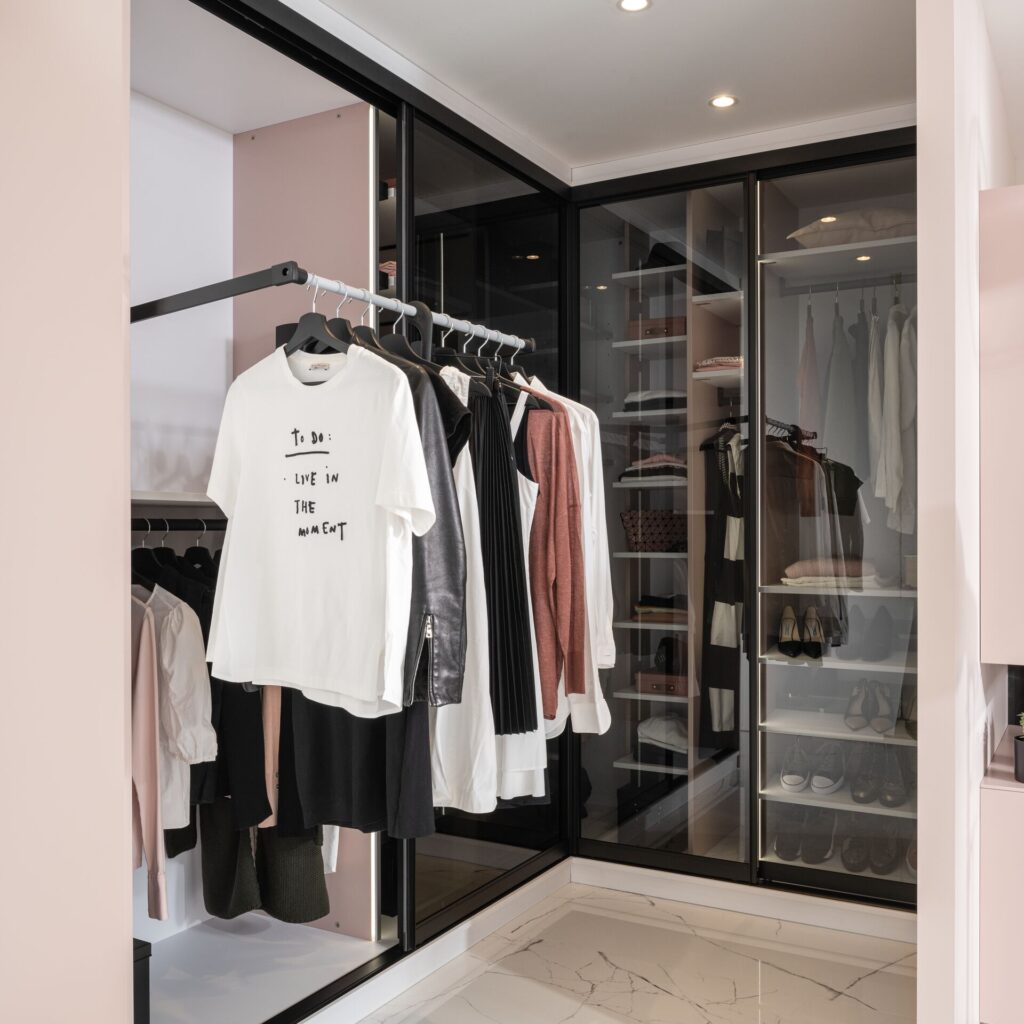 Drop-down clothes rail
This clothes rail will be your everyday best friend by offering maximum storage for your clothes. Say goodbye to the stepladder for reaching the highest clothes: the clothes rail glides down with just a fingertip to present your autumn and winter collection. Adding an upper clothes rail is the best way to double your wardrobe space.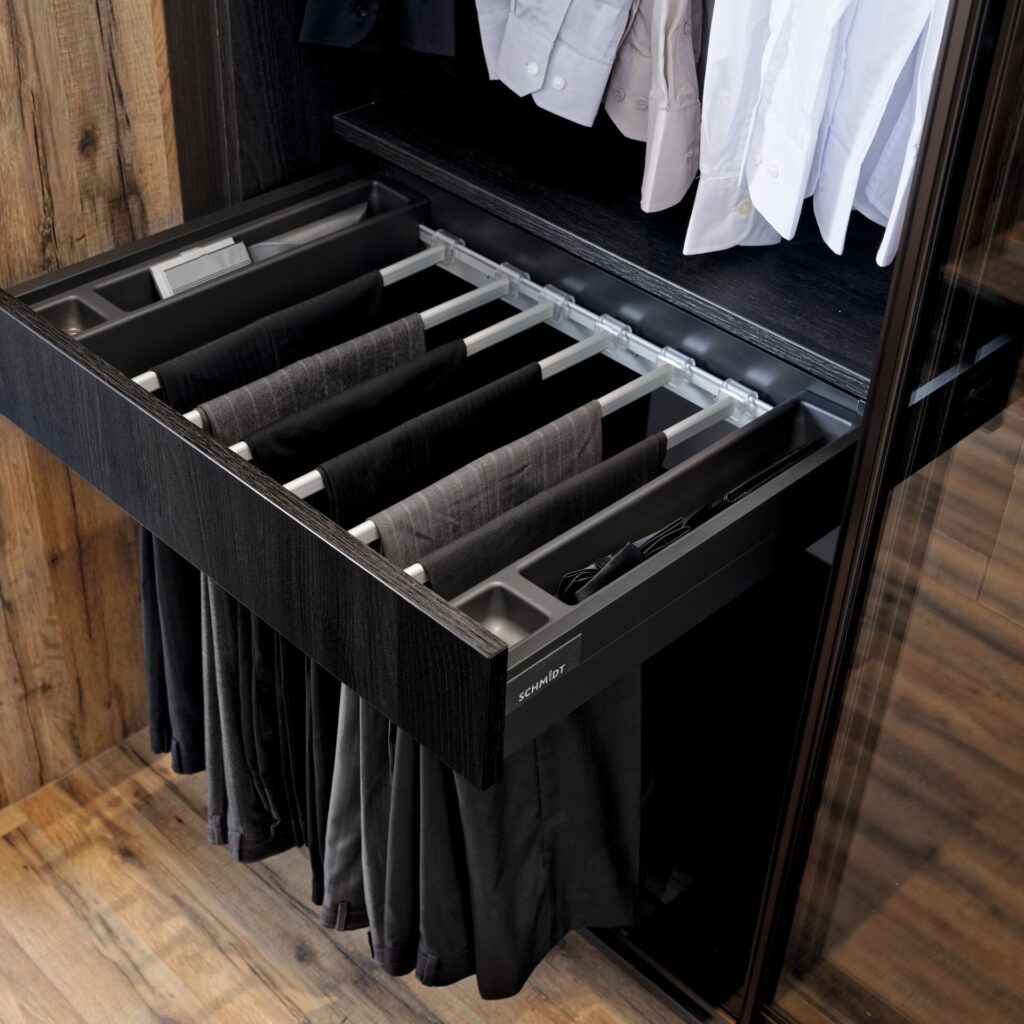 Trouser rack
No more creases and trousers sliding onto the floor: the bars slide out almost on their own, before opening up to take your trousers and then sliding back with alarming ease – Schmidt quality and mechanisms, if you please. Better still, they come with fronts in the same design as the rest of the dressing room for a seamless finish and stylish overall effect.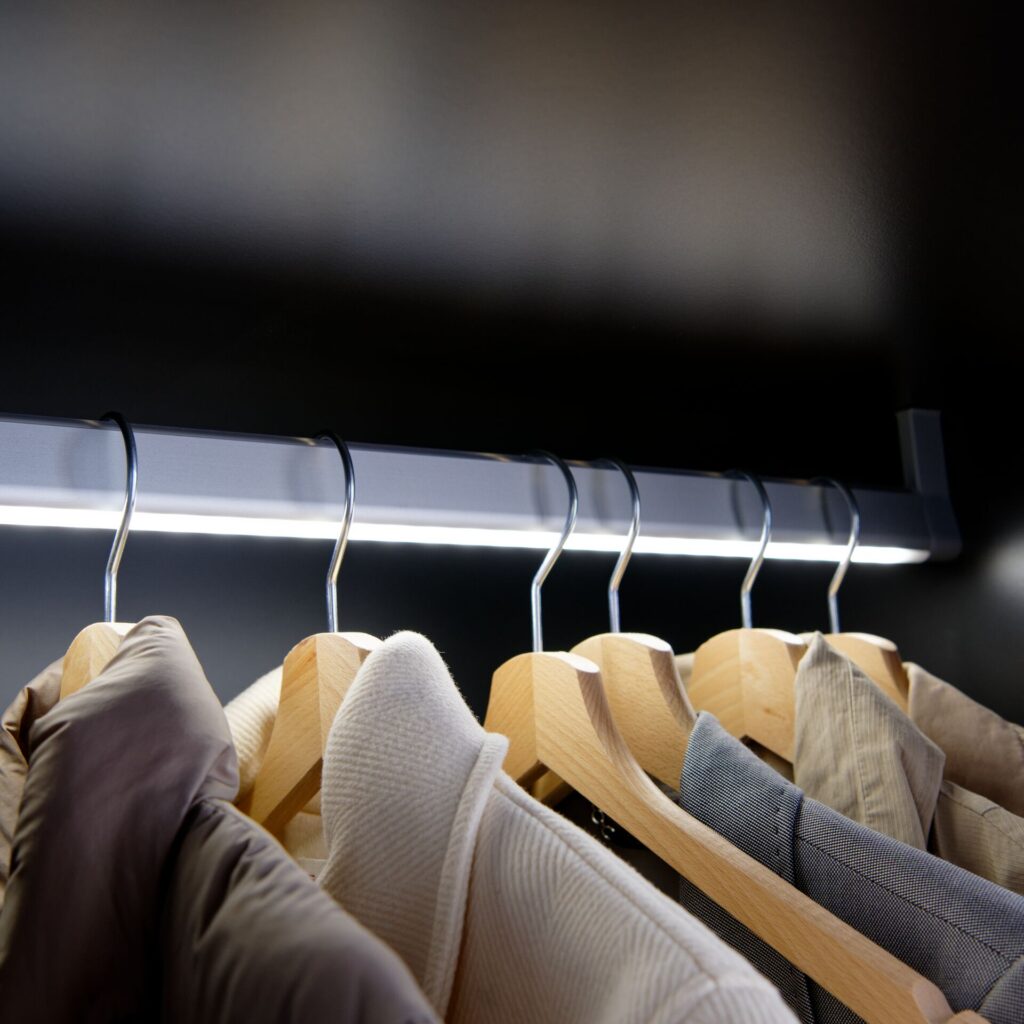 LED wardrobe rail
Schmidt LED wardrobe rails produce enough light for even the darkest wardrobe. Produced in high-quality aluminium, each item is individually customized to any length so we can create an authentically aged or mirror-chromed look.
To keep your shoes tidy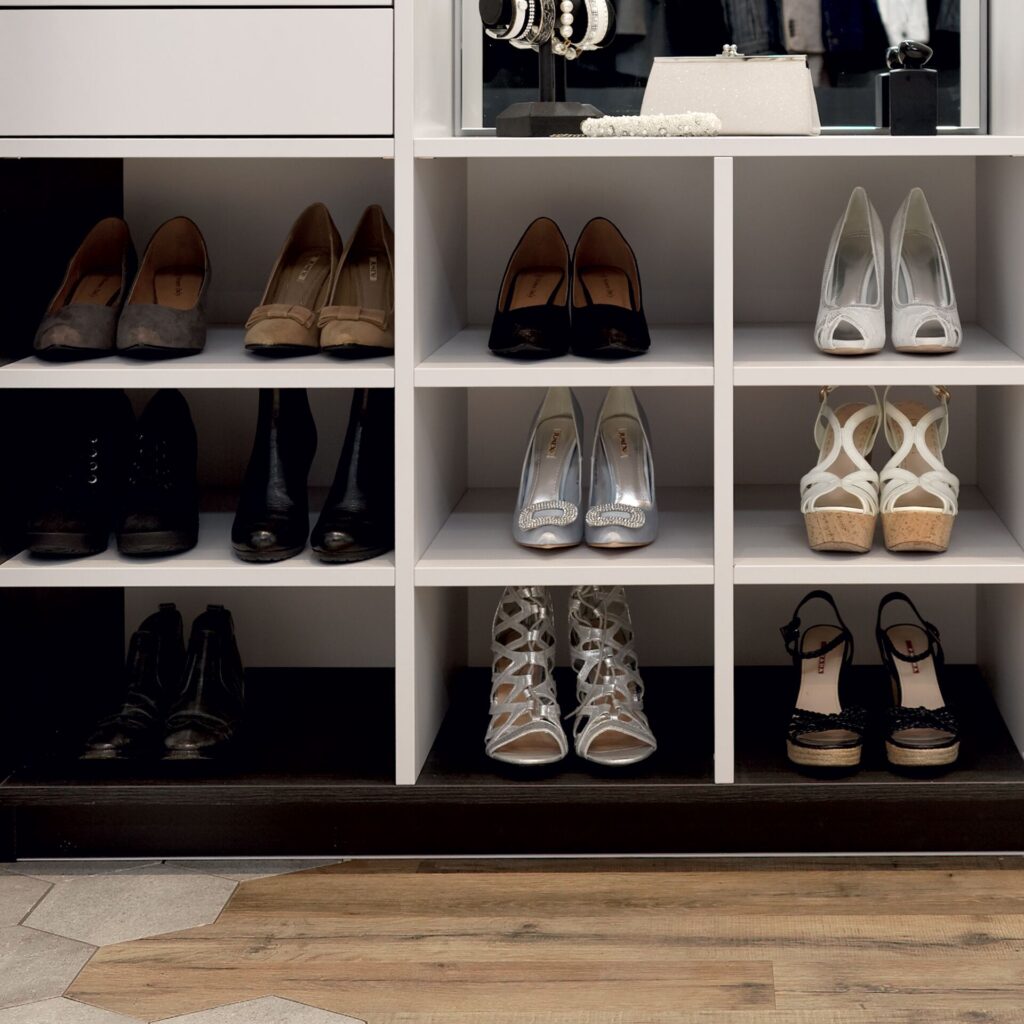 Shoe racks and shelves
Ideal for keeping your favourite shoes within sight and easy reach. Simple, cost-effective, perfectly made-to-measure and a guaranteed winner.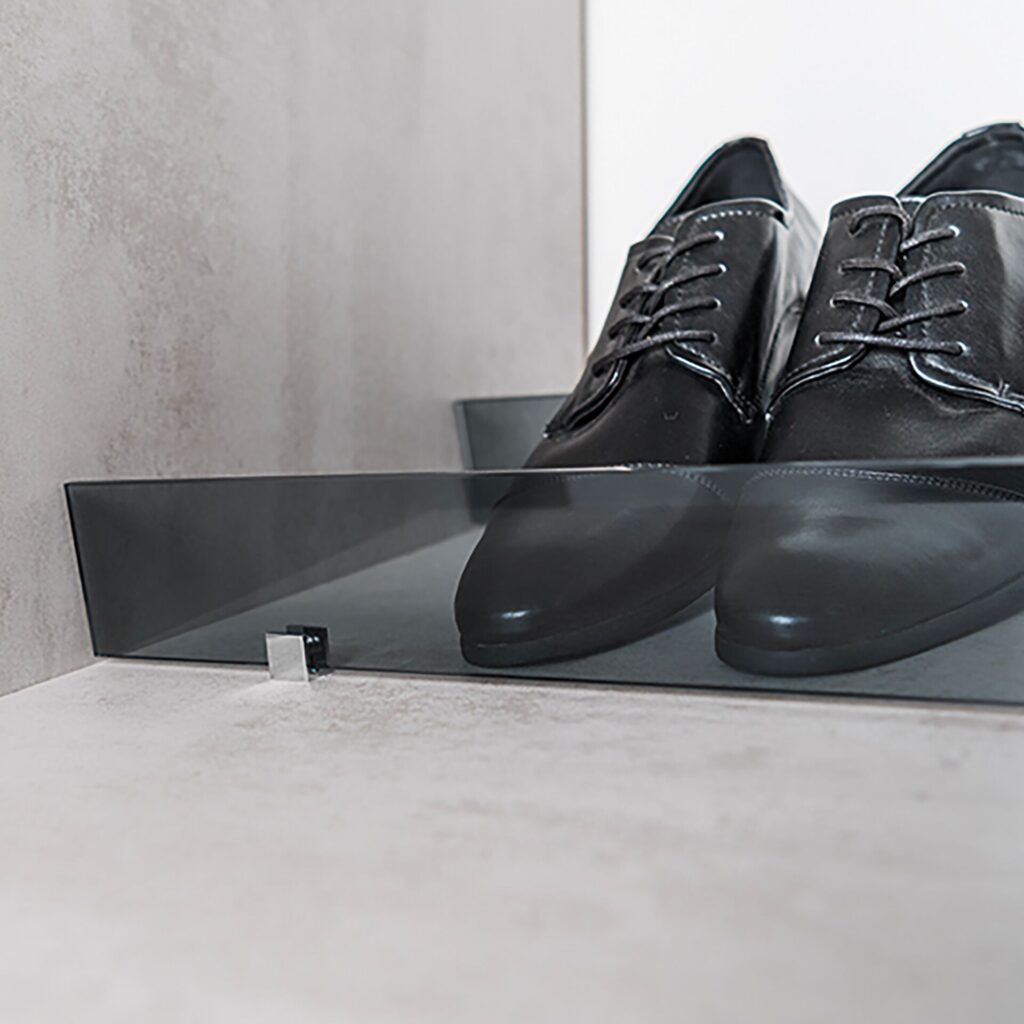 Shelves with glass lips
These shelves are a match made in heaven for your finest high-heeled shoes. They are capable of holding several pairs of shoes in the smallest of spaces, meaning that they are fabulous for presenting your full collection with their attractively angled design.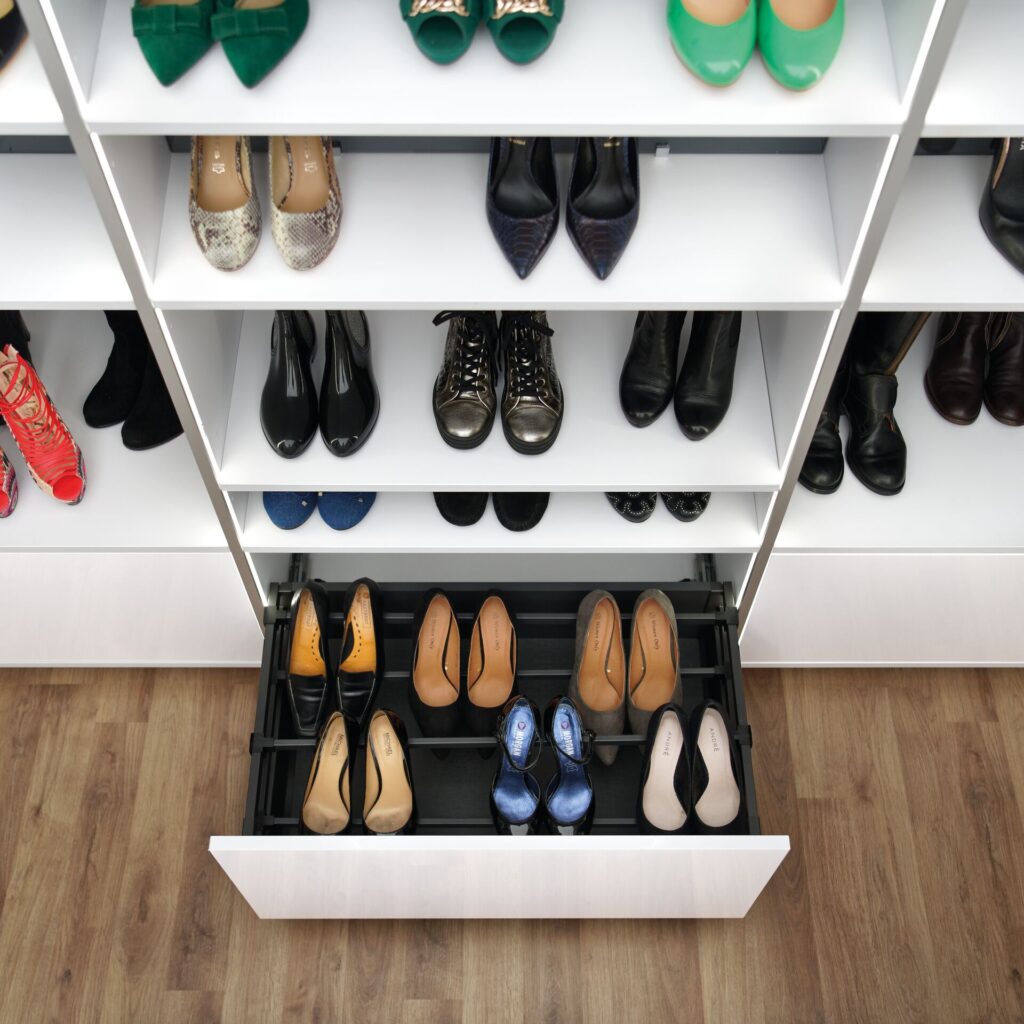 Made-to-measure drawers
For all your fragile, luxury and favourite shoes. Treat them to pull-out drawers made to just the right height with millimetre precision. Much safer and more practical than boxes.
Accessories and hats: shelves to take the headache out of your storage needs
No idea where to store them?
Handbags and hats are tidied away on shelves that are just the right height (i.e. your height), just the right width and just the right depth. Shelves are also the ideal solution for pullovers. Large shelves or compartments are perfect for organising and easily taking out your favourite blouses & sweaters.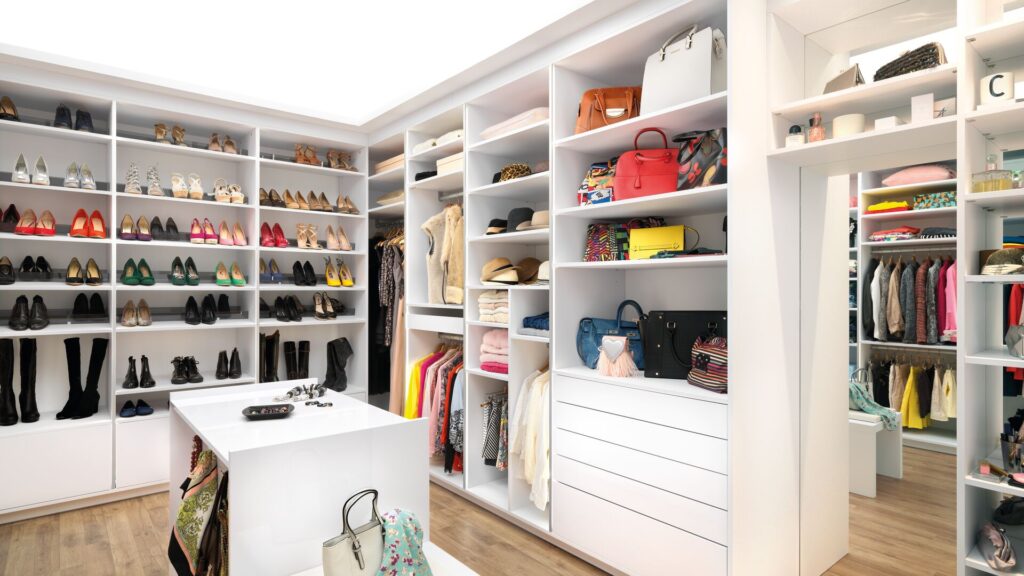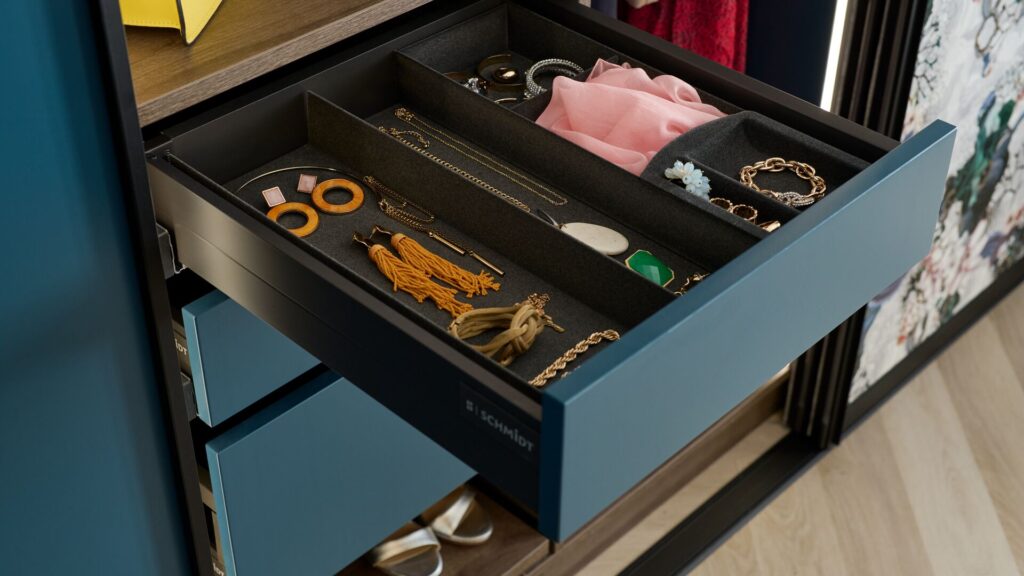 The jewellery drawer for your very own touch of luxury
This affordable luxury drawer is sheer heaven. You can see all your jewellery at a glance!
Say goodbye to tangled necklaces. Stop the light from tarnishing your treasured rings. There is even room for your scarves, instead of seeing them balled up on the floor. A small, yet essential pleasure.
Socks and ties are sensibly tidied away in a low profile drawer, which is extremely handy for choosing the right colour with a single glance.
Schmidt's ideas for added style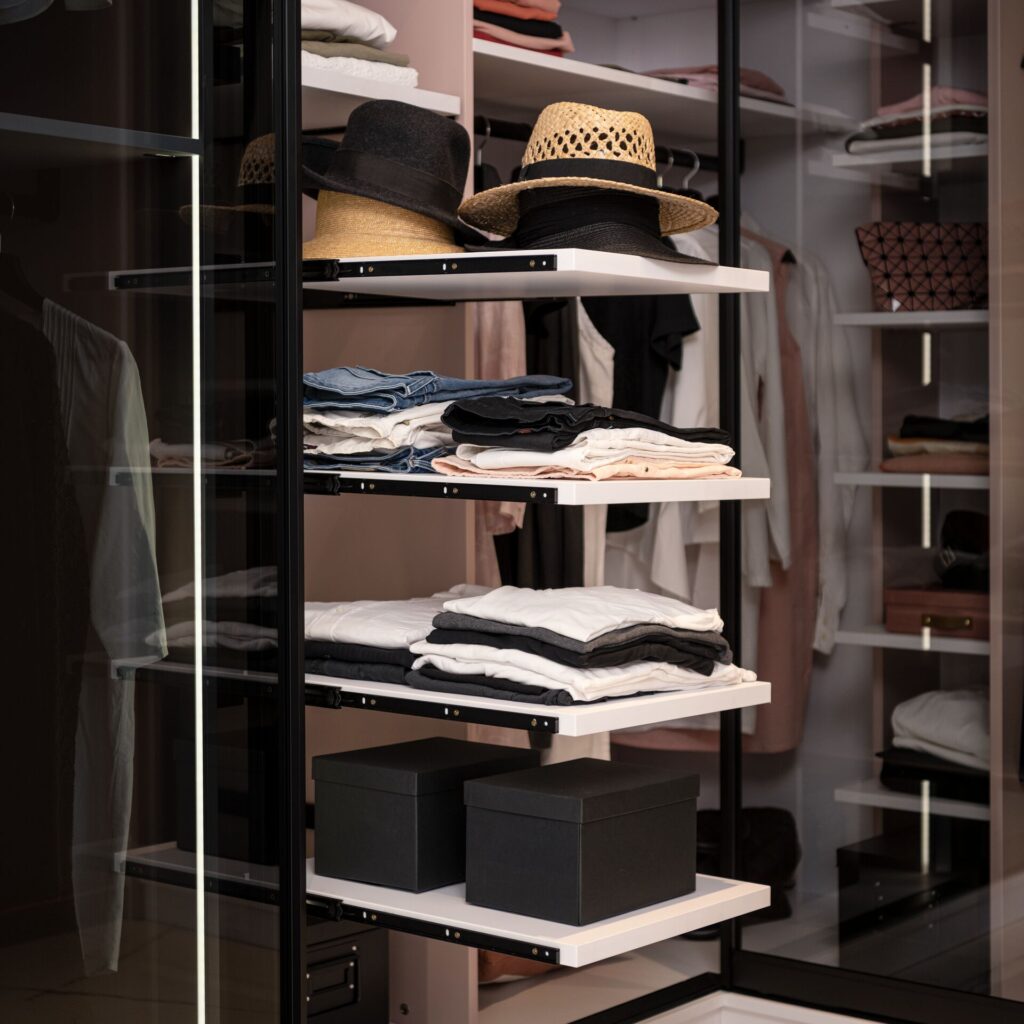 A unique solution that makes it even easier to access your clothes! Even with two piles of clothes, everything is within easy reach. A must-have manufactured to the nearest millimetre to fit perfectly in your space and which ideally matches your walk-in wardrobe.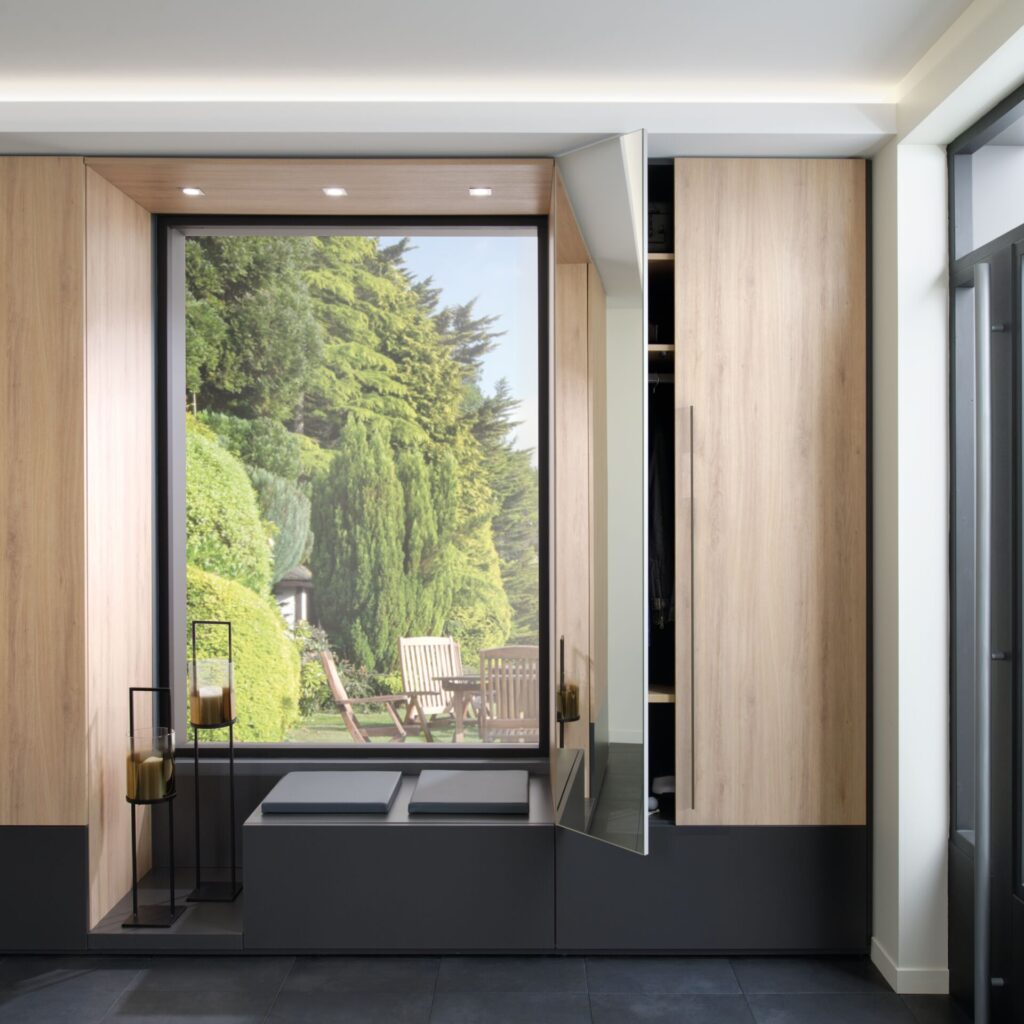 There is never a beautiful mirror where you really need it… except in your Schmidt dressing room. This full-height mirror lets you check your outfit from top to toe while making the room look larger with its natural reflection. Do not worry if you forget this essential accessory when planning your dressing room – your designer will remind you.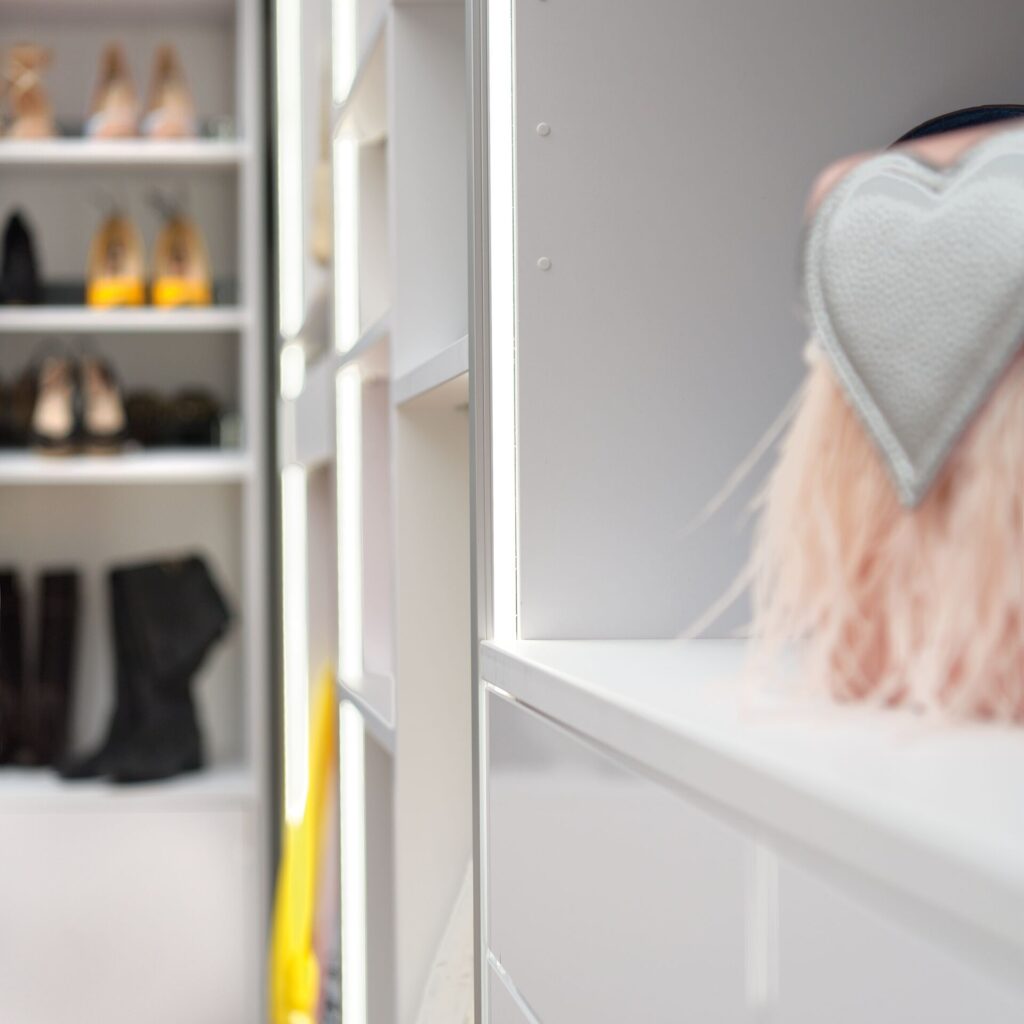 Trying to focus the light on exactly what you need, whenever you need it, without waking up your partner is more than a challenge, because dressing rooms are often next to the bedroom. This is a job for Schmidt and its lighting experts. The result is a targeted glare-free lighting system that will bring out your clothing's colours without disturbing your other half's beauty sleep while you are choosing THE outfit that will turn heads tomorrow. It that was not enough, the money-saving low-energy lights are ideally arranged to produce the best lighting effect.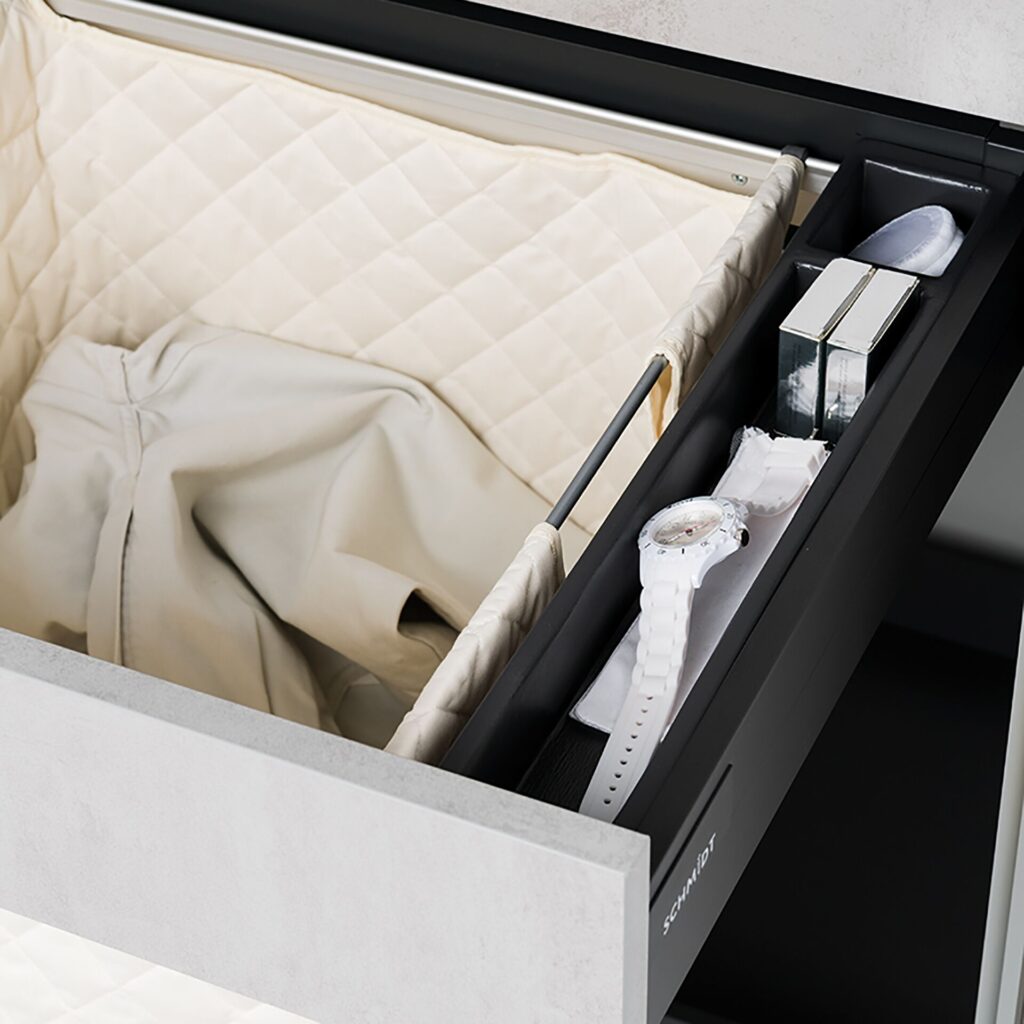 No more laundry basket on the floor thanks to the quilted fabric laundry basket drawer, at the right height and easy to handle. A real drawer naturally integrated into the dressing room which only lets you see the most elegant. It's just the right size and with two baskets you pre-sort the materials and colors.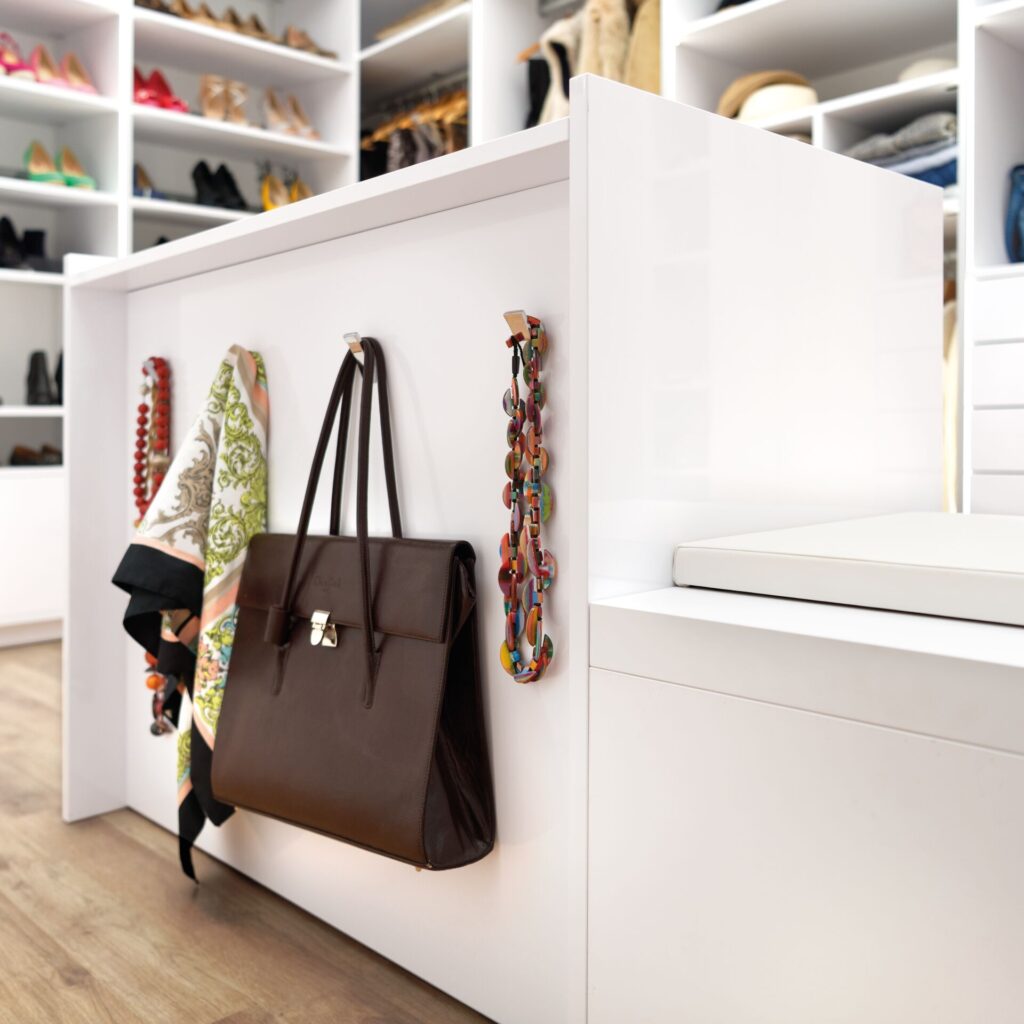 Just like sleek handles, these pretty chromed hooks will give your dressing room that distinctive personal feel as well as a touch of designer flair. These simple and practical hooks are ideal for hanging your bags or getting your outfit ready for the next day.
The under slopped fitted dressing rooms for happy families with storage compartments on every level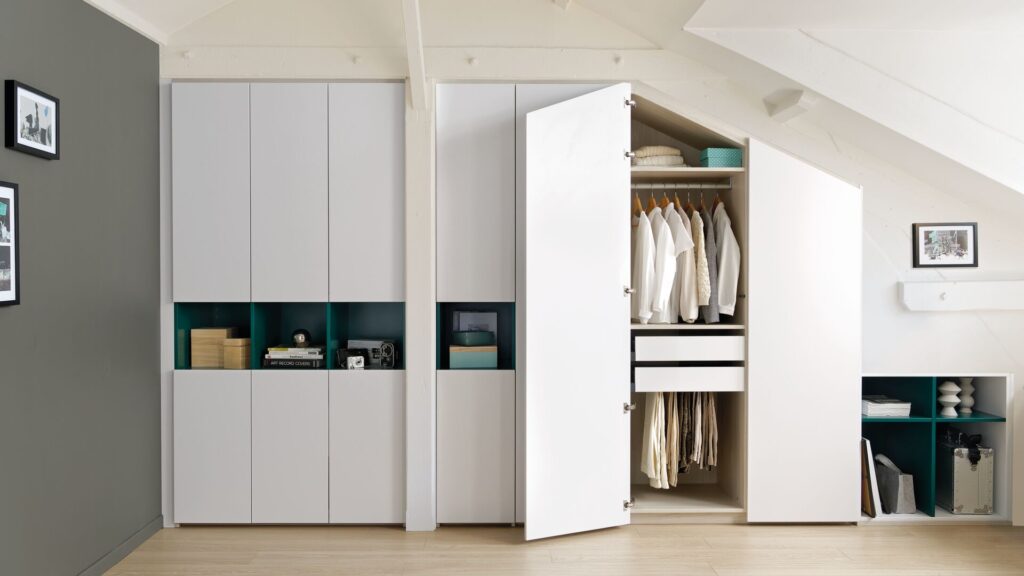 The advantage of a truly made-to-measure dressing room is that there is something to suit every taste… and every size. Low drawers for children (yes, they are capable of tidying away their own pyjamas), drop-down clothes rails for parents, and a design engineered to overcome the home's most demanding constraints, whether sloping ceilings, corner doors or different depths. Didn't think you had space for a family dressing room? Think again, think Schmidt.
Everyone uses sliding doors, but what about sliding doors that have been created with millimetre precision to fit in a child's attic bedroom and produced in exactly the right colour, whether matching, contrasting or with a material effect? Well, you're in safe hands with Schmidt.
The shallow clothes rails on the left and right offer just the right space for hanging children's clothes, while the pull-out drawers in the middle are perfect for keeping winter boots nice and tidy. Ask your designer to calculate just how many square metres you are actually going to save… the figures speak for themselves.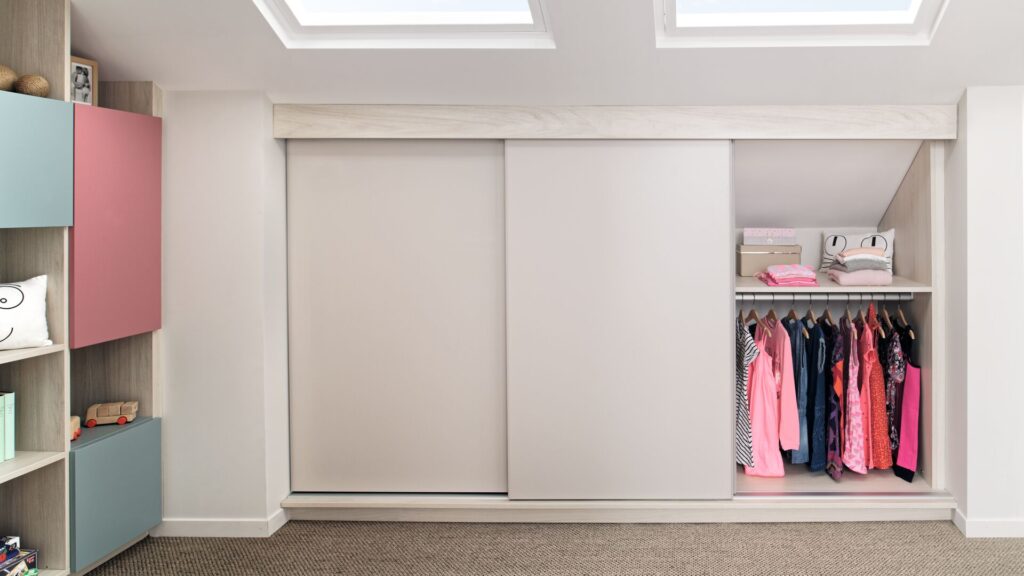 Fitted furniture that fits into every corner of your home
No matter the size, Schmidt can design interior solutions that are tailored to your needs. We offer customisable widths, heights, and depths to the nearest millimetre, with depths of up to one metre.
With our smart storage solution technology and made-to-measure expertise, you can design fitted wardrobes and furniture that fit seamlessly into any room or shape of your house.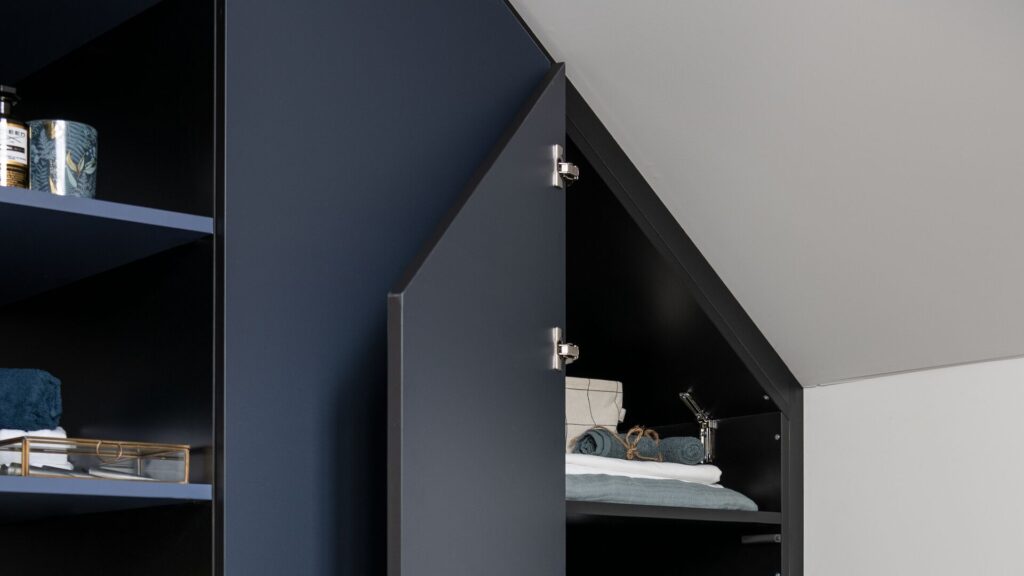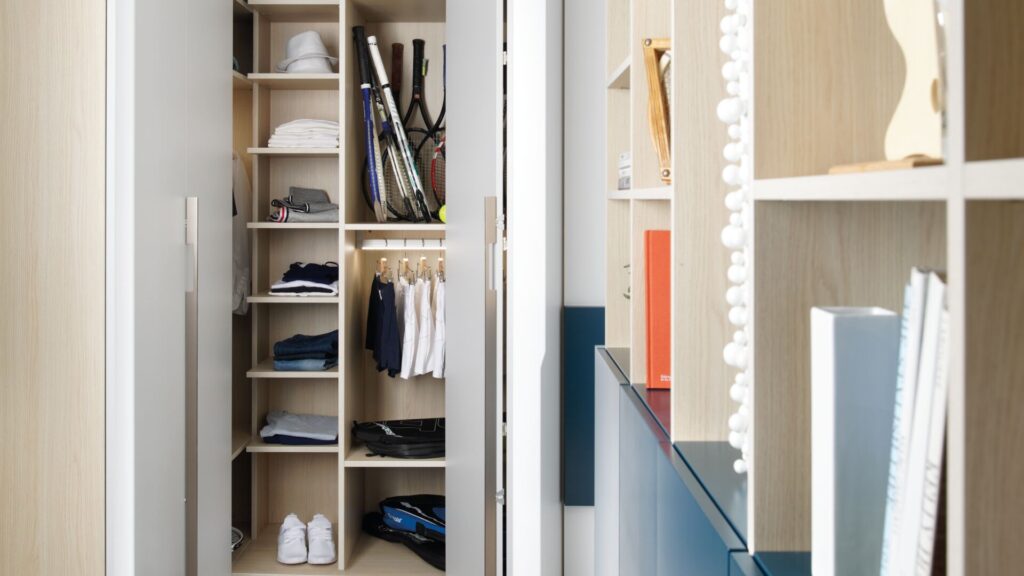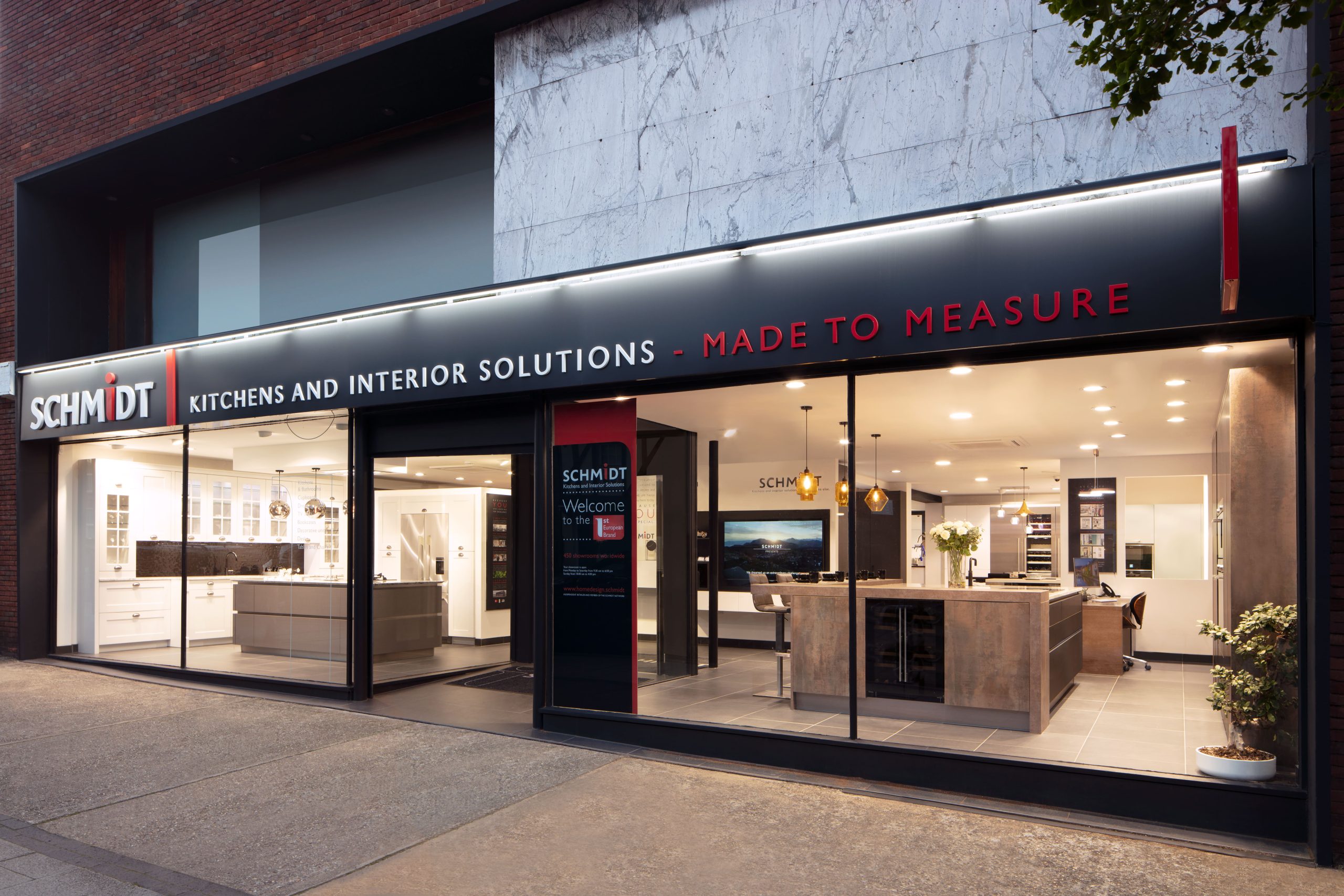 Schmidt showroom
Experience the beauty and functionality of our kitchens & fitted furniture first-hand at one of our Schmidt showrooms.

The Schmidt experience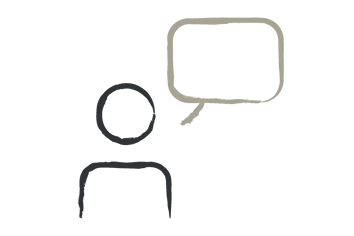 Single point of contact
A dedicated designer that knows your project inside out, will manage everything.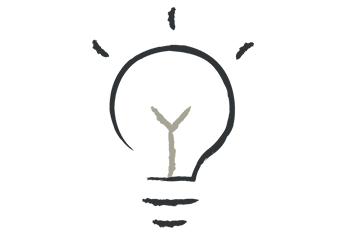 Personalised advice
We'll work closely with you to unlock the hidden potential in your home. Free quotation & VR
Your project will come to life with a free detailed quote, 3D renders and VR experience.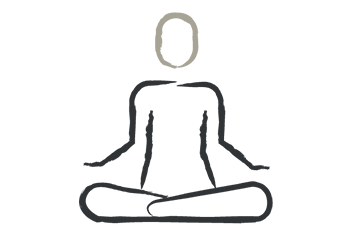 Peace of mind
We'll be with you from the initial planning to installation, and beyond.