Lighting solutions for kitchen furniture
Lighting in kitchen : what you need to know
Our lighting experts shine a light on all you need for perfectly illuminated spaces.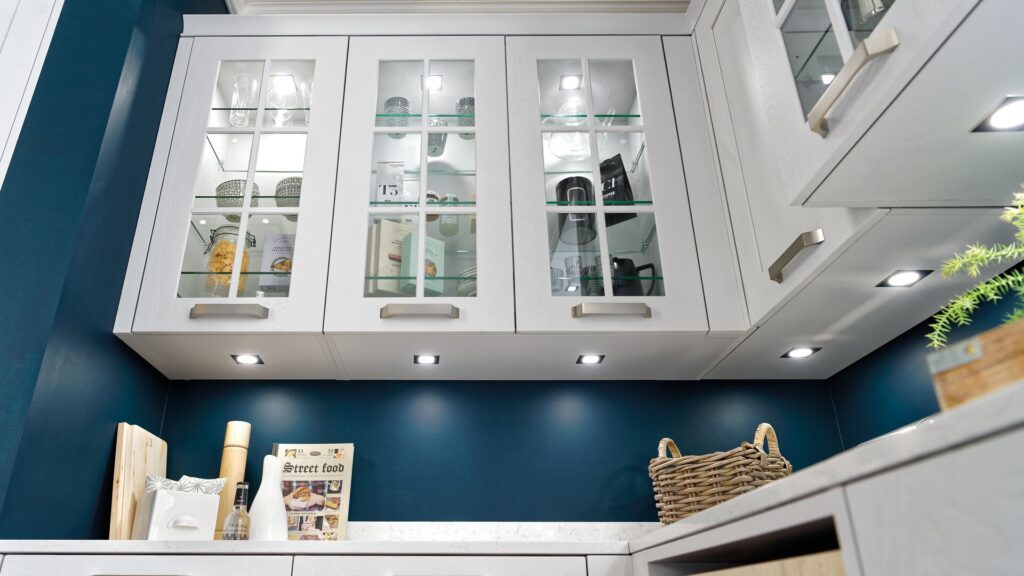 There are four types of lighting in a good kitchen:
General: with wall lights, ceiling lights, decorative lamps, etc.
The eating area: additional lighting that is soft or indirect. They create a welcoming atmosphere.
The work area: mostly direct and targeted lighting, often provided by built-in or adjustable LEDs.
The interiors of the units: ideal for highlighting your glassware and translucent objects. Effect guaranteed.
The little +
Why built-in LEDs or illuminated backgrounds? Design-to-measure right from assembly, they are almost invisible and light up the worktop perfectly. Incomparable: Once seen, never forgotten!
Tip: light sculptures the space and can completely change the atmosphere in a room. Think about light when creating your kitchen, with the help of your designer. They will have plenty of illuminating ideas.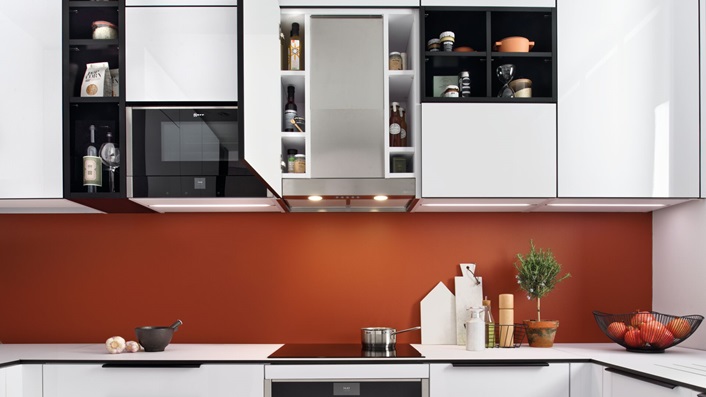 Hot or cold: a question of temperature
The temperature of your lighting depends on how you use it. The white light emitted by a light source is measured in Kelvins (°K).

Incandescent: 2,700°K (a warm yellow-reddish light).
Halogen: 3,200°K (hot white).
Fluorescent: variable according to the composition of the interior powder (3,000°K, 4,000°K, 6,000°K).
LED: variable according to the composition of the electronic component (3,000°K, 4,000°K, 6,000°K).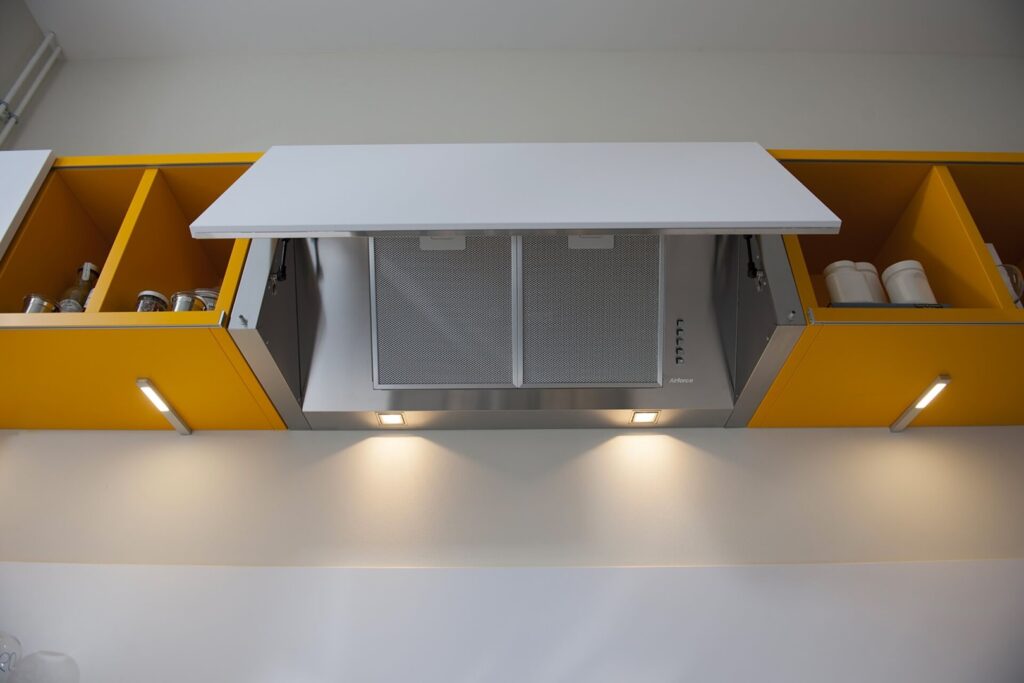 Warm, with a yellowy hue for atmospheric lighting (between 2,200°K and 3,200°K).

Neutral, resembling daylight (between 3,200°K and 5,000°K). This is the temperature that Schmidt chooses to use with its furniture. It is perfect to light up a worktop.

Cold, with a hint of blue (more than 5,000°K). Perfect for lighting passageways, such as corridors, stairs or garages.

Tip: if you choose an extractor hood, make sure that the colour temperature is the same as that of your furniture.
Such attractive LEDs
Schmidt makes all their light fittings with LEDs, as there are so many advantages:

– They are economical and environmentally friendly.
– They are exceptionally long-lasting: 50 to 100 times longer than a conventional incandescent bulb!
– Their light is powerful, without dazzling.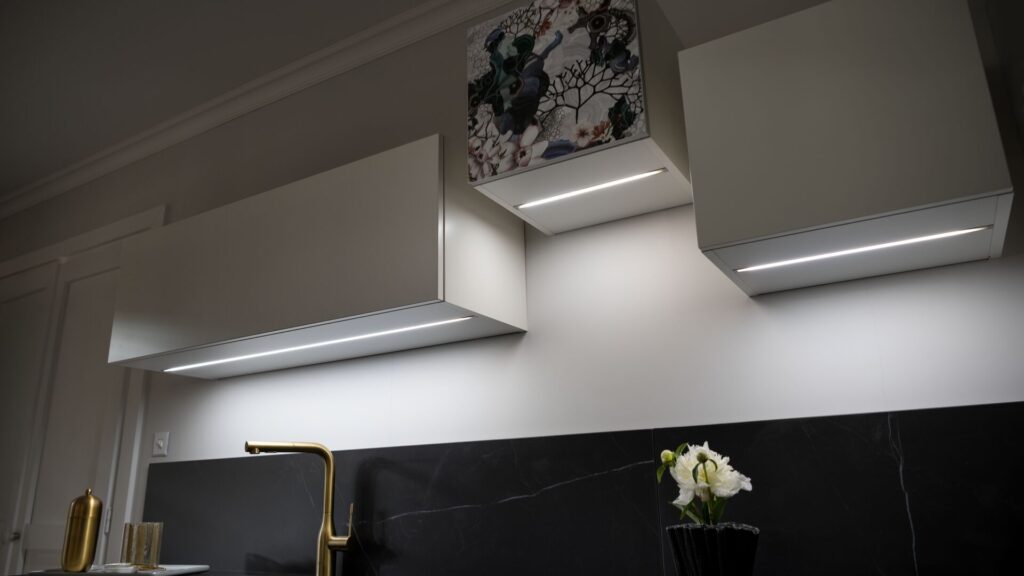 Lighting your work area: the art of luxury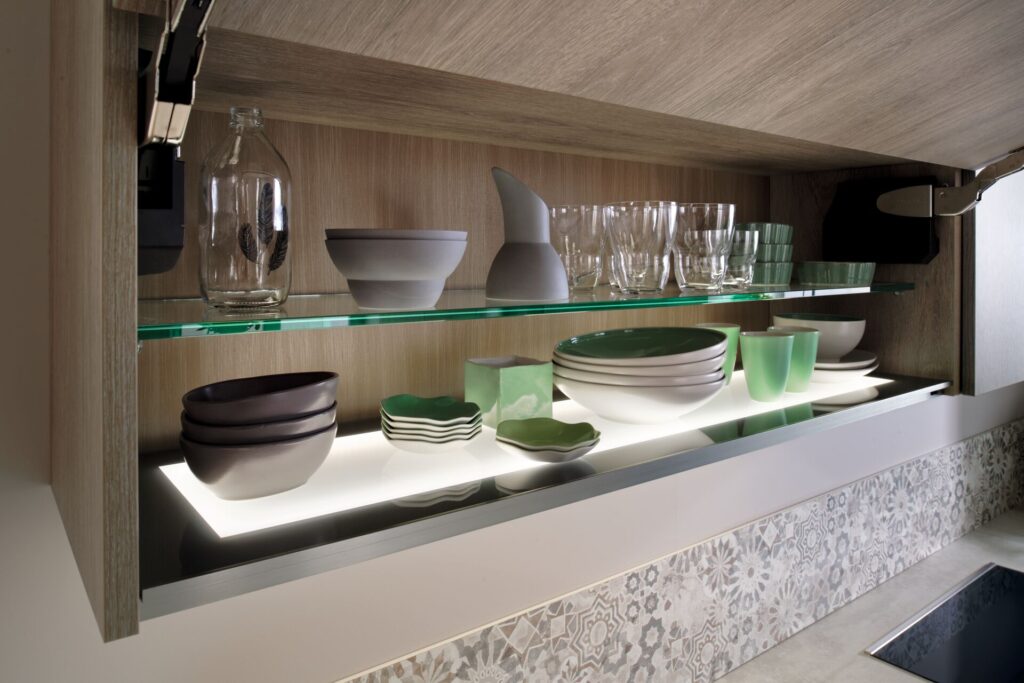 A must: illuminated backgrounds
Schmidt has invented invisible lighting, with its illuminated carcase interiors that light up your worktop! Perfectly fitted and invisible when switched off, each illuminated carcase interior lights up your worktop with intense, uniform and well distributed light. No bothersome shadows or dazzling light.
The ideal solution from Schmidt for discreet additional lighting that creates a unique atmosphere inside your units, thanks to its translucent glass.
Your signature: built-in profiles
+ Design:
A made-to-measure lighting profile, discreetly built into your furniture.
+ Efficient
They diffuse neutral and concentrated light that efficiently illuminates your work area (sink, worktop, etc.).
The Schmidt idea: a profile built into the interior of a unit discreetly highlights your crockery and diffuses a warm ambience through the glass doors.
LED spotlights: timeless elegance
ZQUADRO
A discreet square form. Perfectly fitted in the unit of your choosing in the factory, it adds a designer touch that makes a change from round spotlights. Faultless.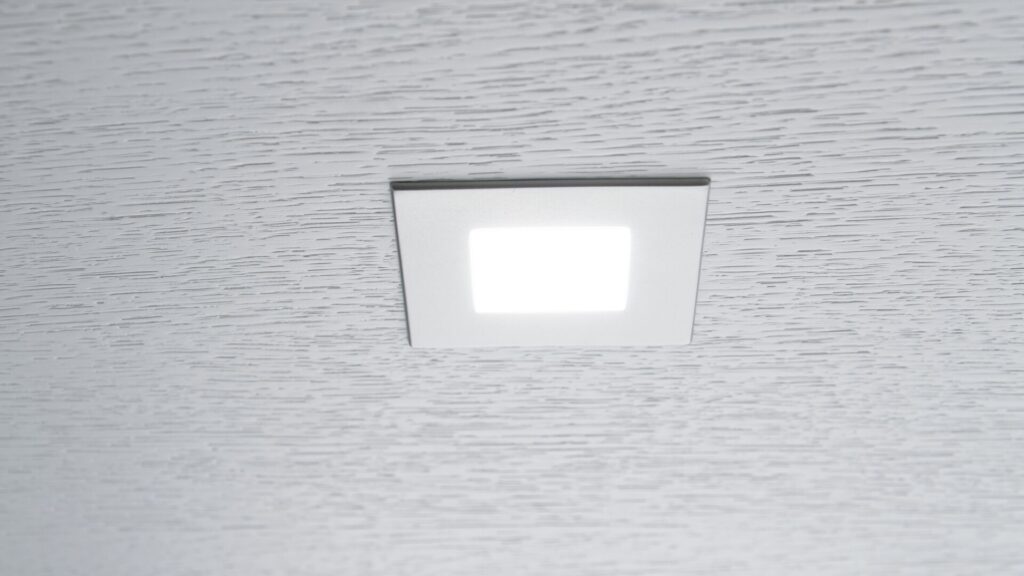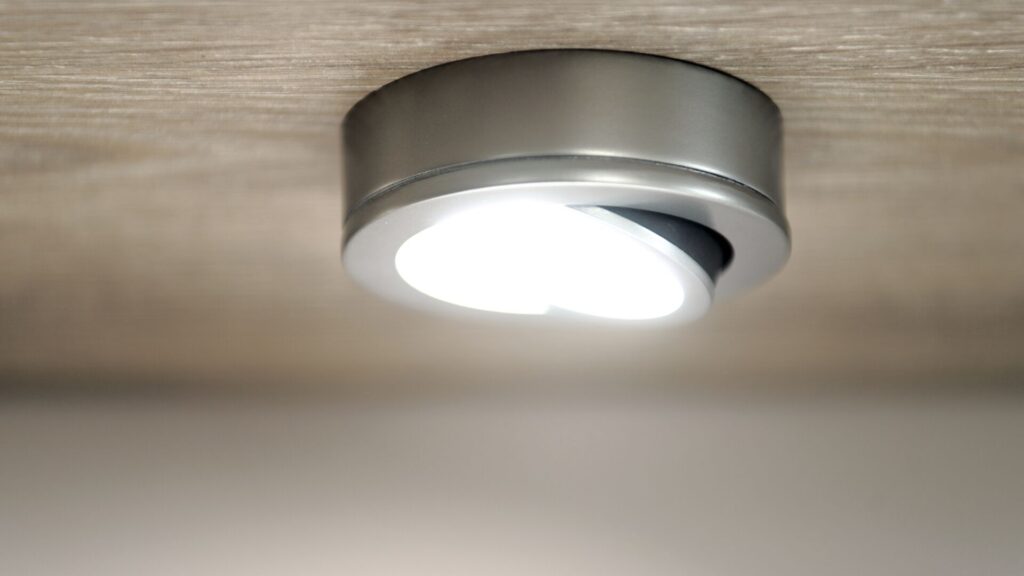 ZORIO
The multi-tasking spotlight that directs it beam to meet your needs: on the worktop when you are cooking, or indirect lighting to produce an atmosphere. Brilliant.
LED wall lights: your touch of light
+ Practical
Easy to install, these lights can be added to an existing composition in total harmony.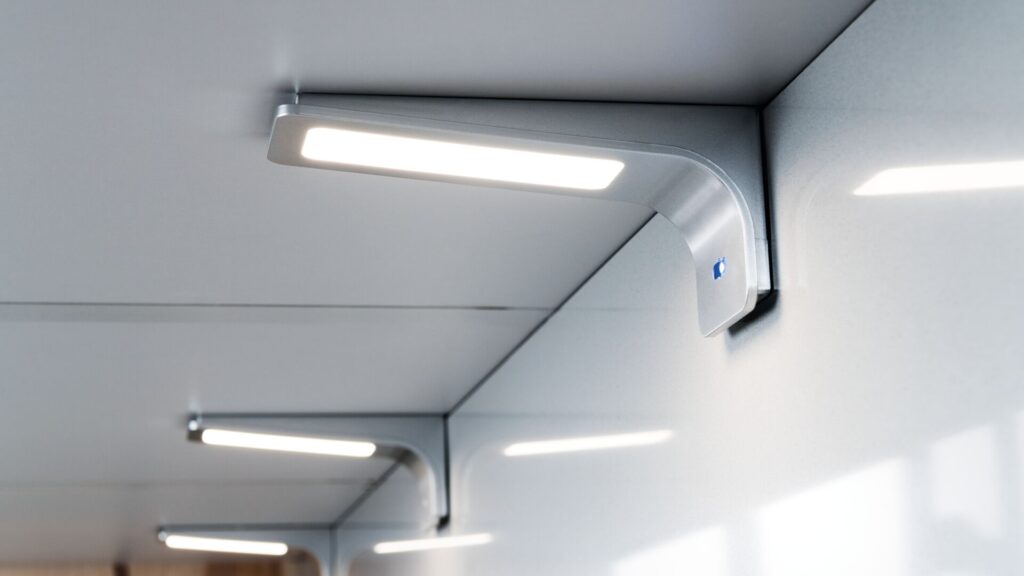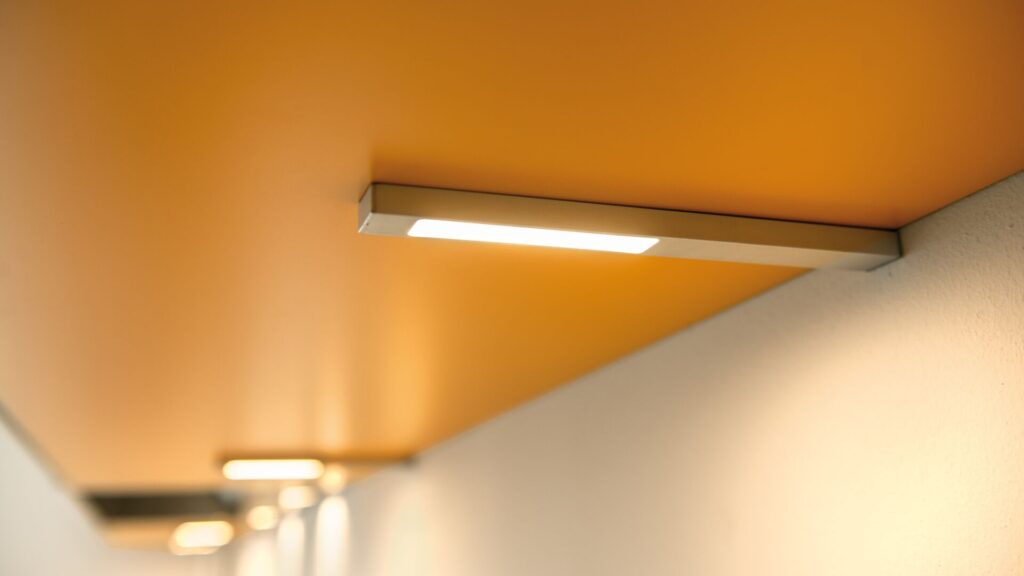 + Original
They add a distinctive decorative touch to your kitchen.
Enhance the beauty of your kitchen
Fantastic bespoke LED lights… They fit in everywhere, they provide ample illumination and they hardly use any electricity. Time for a closer look at how you can incorporate LEDs into your kitchen:
– Beneath a unit: the invisible LED strip produces a spectacular effect by illuminating your plinths and the floor, making it the ideal solution for a luxury counter or bar.
– In drawers, cabinets and wardrobes: say goodbye to darkness and let there be light when choosing or putting away your tableware. Making everyday life so much easier.
– Beneath a worktop: the cleverly concealed LED lights showcase the fronts and the attractive handles on your base units. Your kitchen is worth it.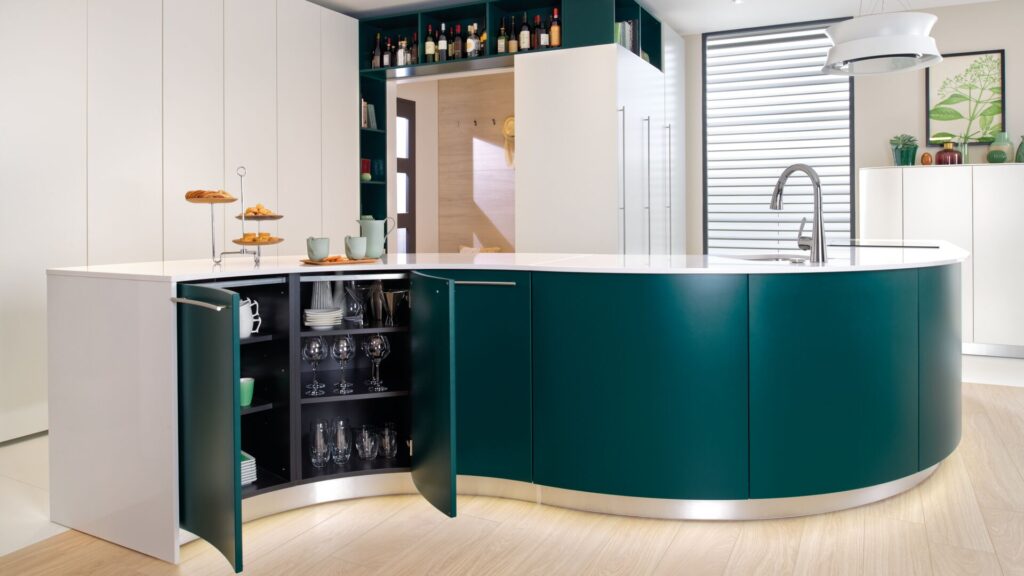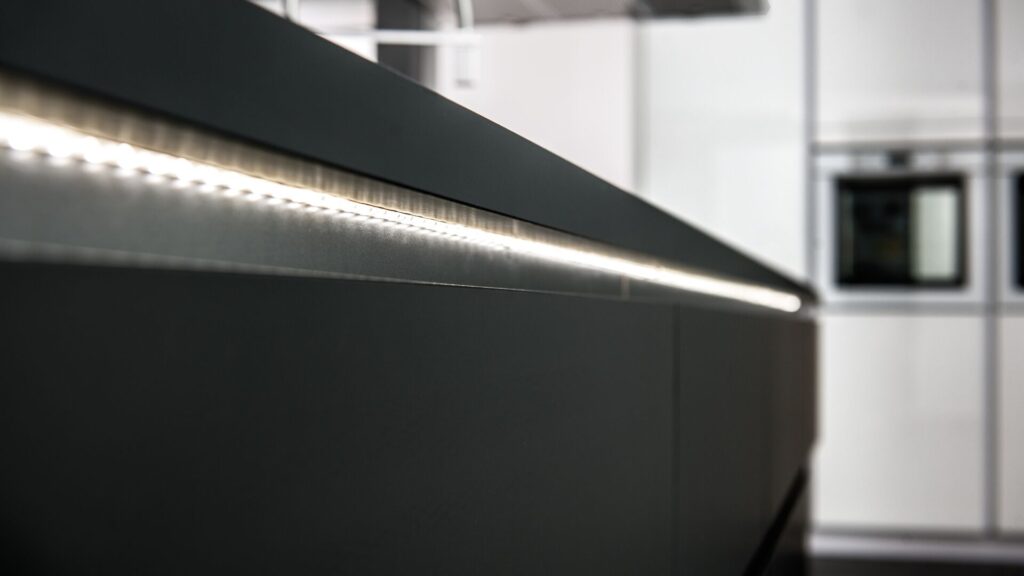 Tips and tricks for the lighting of your kitchen
Surprisingly clever, stunningly simple.
Millimetre-perfect glass shelves or LED strips… Design ideas that create pools of light where you least expect them in your kitchen – for a warmer, brighter and more harmonious atmosphere.
Luminous shelf
– Pure and practical, the definition of design
– Two-in-one: a shelf and a light
– What an atmosphere! Additional lighting that banishes shadows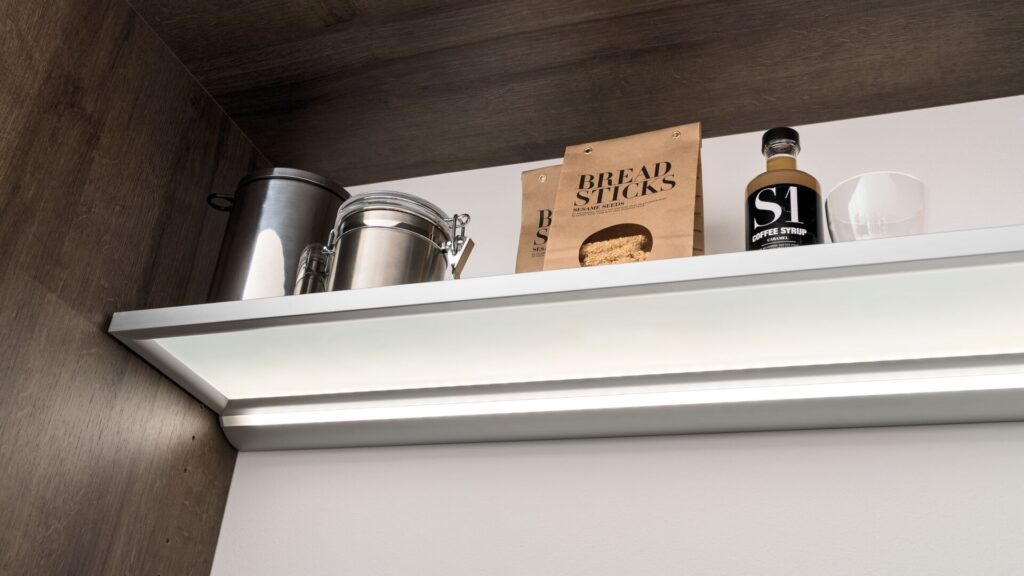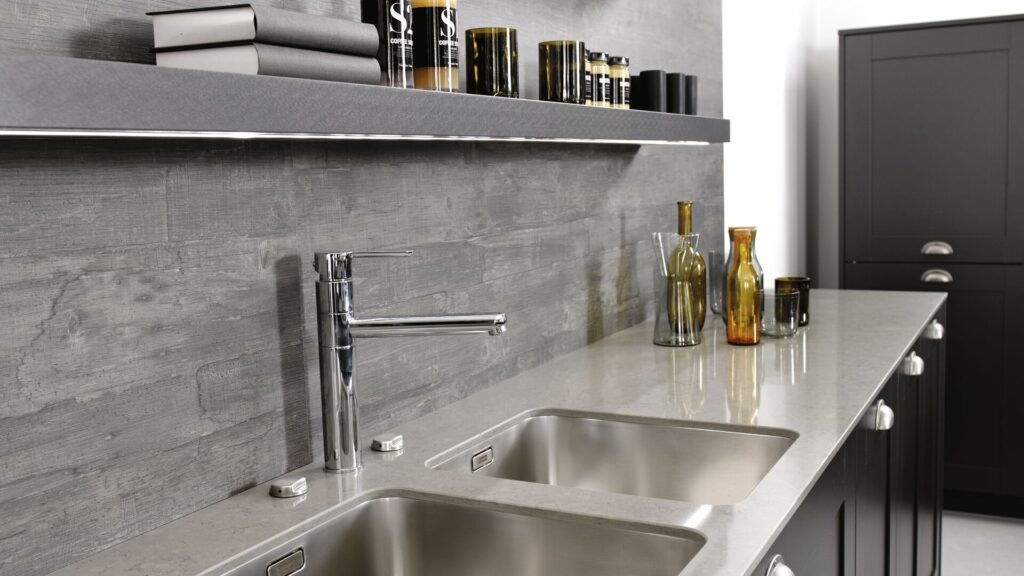 Built-in LED strip
– Made-to-measure and constructed by the factory
– Your discrete touch and chic decor
– To highlight your designer objects and utensils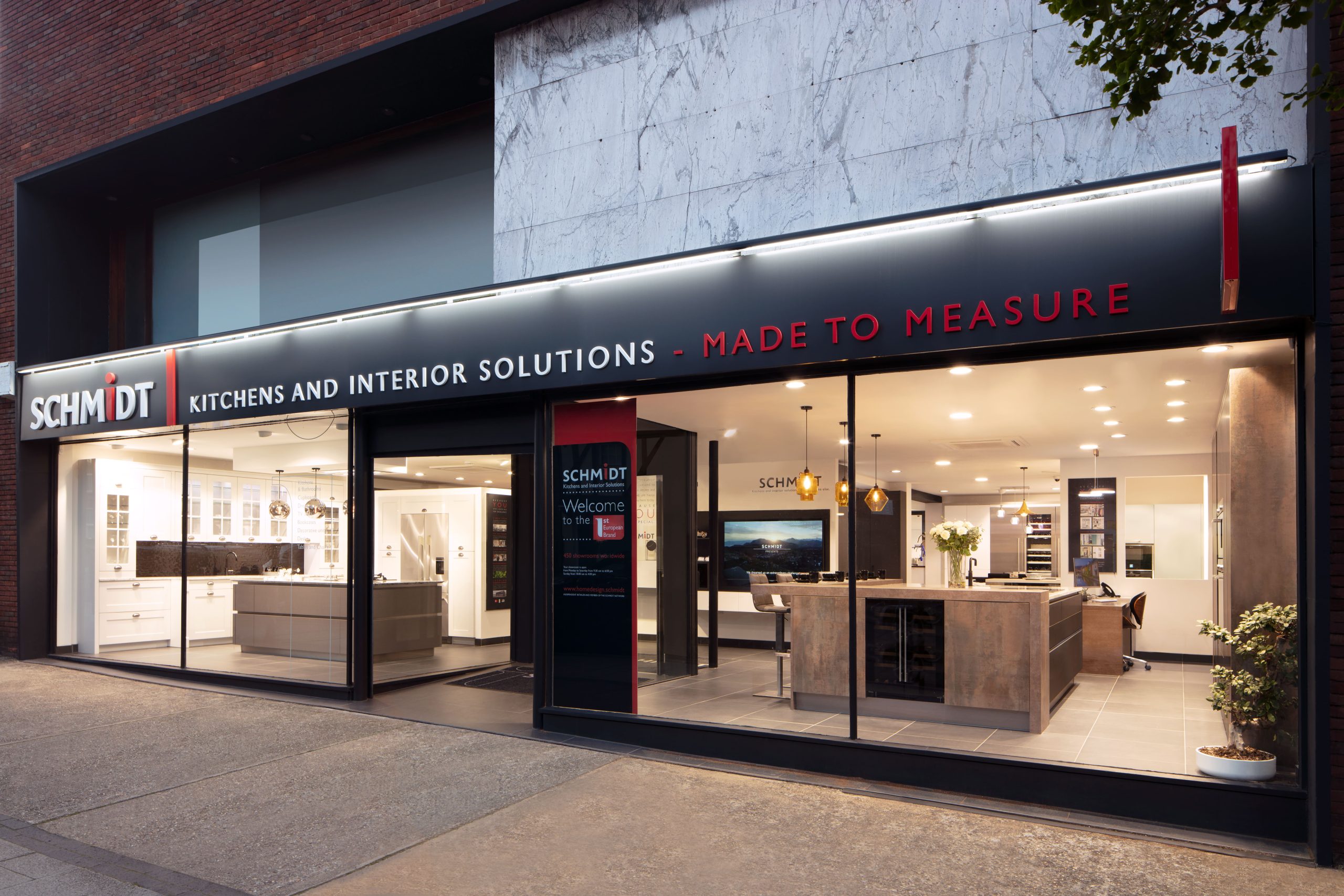 Schmidt showroom
Experience the beauty and functionality of our kitchens & fitted furniture first-hand at one of our Schmidt showrooms.

The Schmidt experience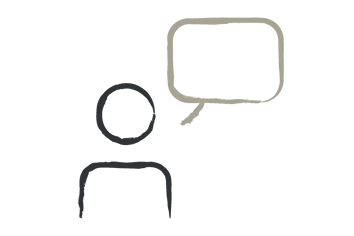 Single point of contact
A dedicated designer that knows your project inside out, will manage everything.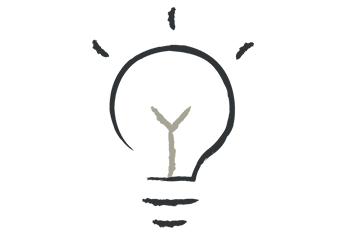 Personalised advice
We'll work closely with you to unlock the hidden potential in your home. Free quotation & VR
Your project will come to life with a free detailed quote, 3D renders and VR experience.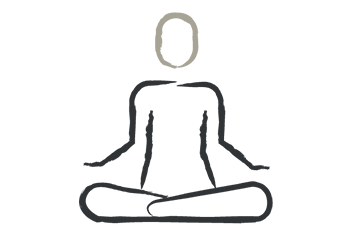 Peace of mind
We'll be with you from the initial planning to installation, and beyond.